Customized CSV Export for Devices
The ability to export details about a list of devices to CSV file. Along with capturing the device details in more depth by adding new columns to the existing ones, it also allows the user to select which columns should be available while exporting.
Below are the existing columns of the CSV.
Device Name
Group
Site Address
Firmware
Site Name
Time Zone
Below are the new columns added to the CSV.
Registered Account email
Parent Account name
Device Id
Hardware Id
Home button status
Power button status
Screenshot status
Scheduled content time list (weekdays, time, etc.)
Display Timer data
Software Version
Software update date & time
Language
Content Id
Customized CSV Export
The current export icon (file icon at right most position in device search section), is updated to provide more options for configuring and downloading a customized excel file. Upon clicking, the File icon expands into a text 'Reports' button and displays a menu with two options: Generate Reports and Customize Columns.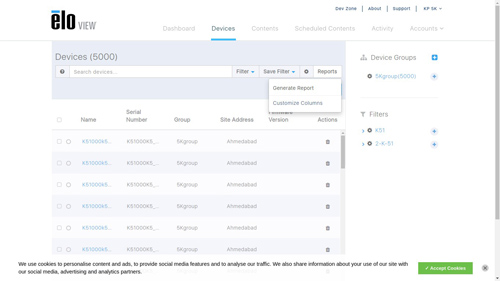 Clicking on Customize Columns generates a pop-up with the columns (existing with default selected + newly added) with check boxes next to it. The user can select or remove any column from export from this dialog except hardware Id. The selection will be reflected next time the user tries to export data.
User clicks on Generate Report option which automatically downloads a CSV file with the above selected Columns and their values. These columns would act as new 'Default' for the current account.