Setting up your device
There are two basic ways to set up your device to use EloView.
Automatic registration
To automatically register a device, go to the web portal www.eloview.com and enter the serial number of the device you want to add to your account. You do this under the device tab. This method is very convenient and simplest. You can send a unit to each location recording the serial number and location. So your installer only needs to mount and connect internet via LAN, Wi-Fi or cellular. The device then will automatically be found and if you have set up default content it will start on the device.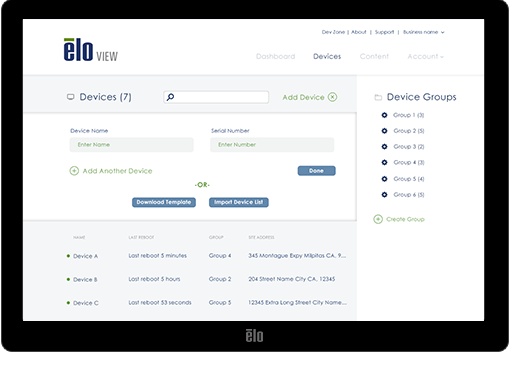 Manual registration
Either of the ways requires an account first. You can set up an account at www.eloview.com. The first step is to plug in the device with power and network (LAN or Wi-Fi). You will see the device come to a screen that says register device. Enter your account user identification, your email, and your password. Just like that, your device is now registered and you should see under devices when signed into the web portal.