StickyFilters
In all Android 7 (Nougat) devices, we have added the ability to create a subset of devices inside group/filter. We are calling them StickyFilters.
Sticky Filter is a facility from which you can update a particular set of properties and apply those to only a subset of the group or filtered devices. Currently, updating anything in group/filter will affect all the devices but from now onwards you can create a filtered subset inside group/filter and apply settings to a particular set of devices.
Create Sticky Filter
A new add icon (+) introduced beside individual group/filter name.
When clicking the (+) icon, you will see the below pop up.

On the create Sticky Filter popup, you can give any valid name. Search devices will provide all the filter criteria same as devices listing page. You can build any valid filter query in search devices field as you would do while creating filters.

Once the Sticky Filter is created, you can see an arrow on the left of that group/filter name, as shown in the image below.
Sticky Filter settings
By clicking on the gear icon before StickyFilter name, it will take you to the StickyFilter's settings page.
Initially the page will be in view mode where only properties that were changed by this Sticky Filter are visible, rest all are hidden.
Once you click on edit button, then all possible settings will be displayed and you will be able to change any number of properties.
In edit mode, all settings will be set to default values and it does not inherit from the parent group/filter or account settings.
In edit mode, for peripheral configurations, you can operate on switches provided on the right side of the image to change values.
---
Locked Settings
Locked settings is an extension to StickyFilters. This feature is compatible with 2.0 devices only.
Once you change a setting value in StickyFilters, it will be locked on that device as a result it cannot be changed from anywhere else on Vienna cloud until it is unlocked.
Locked settings follow the first man win policy, which means a device can be in multiple StickyFilters but the first filter to apply setting will be the one, for which device properties will be locked.
A locked setting can not be updated from device, group, filter, any other Sticky Filter or account setting changes.
Settings which can be locked, in this release, are - Brightness, Volume, Control panel password, Access Restriction Password, Timezone, Physical Analytics, NTP URL, Interactive Overlay, Android Navigation bar, Show Stock apps, Display timer, Orientation, Language, Android Home, Device Screenshot, Auto play, Network configuration, Home button, Power button, Schedule Content, WiFi, Whitelist, Reboot timer, Peripheral configuration.
Settings which are locked cannot be modified from Vienna and/or Athens. The only exception to this lock is the device's default Settings app. In this app, you can change the settings like brightness or volume, even if they are locked. The updated values will be reset to original locked values once device reconnects to cloud.
Same settings can be modified by same StickyFilter only.
Locked settings on device
You will see an lock icon in device details page, for the settings which are locked by any StickyFilters, as shown below.
Unlock a locked property
Edit Sticky Filter
When you go to a Sticky Filter settings screen, you can see a cross icon for the settings which are currently locked by this Sticky Filter. To unlock those settings, you can click on the icon and it will be removed from Sticky Filter and same property will be unlocked in a device that was locked by this Sticky Filter. The value of the settings will not change on the device, it will just unlock the settings. See the image below for reference.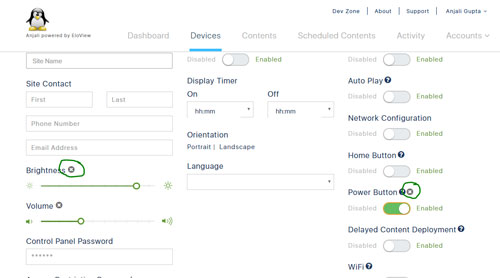 Delete Sticky Filter
When you delete a Sticky Filter, all the settings locked by that Sticky Filter will be unlocked in all devices locked by it. The value of the settings will not change on the device, it will just unlock the settings.
Delete parent of Sticky Filter
When you delete a group/filter, all the underneath StickyFilters will be deleted and as a result, all the settings locked by those Sticky Filter will be unlocked in all devices locked by them. The value of the settings will not change on the device, it will just unlock the settings.