December 2, 2019
Specialty retailer Boot Barn taps kiosks to deliver 'infinite aisle'
< Go Back
Specialty retailer Boot Barn taps kiosks to deliver 'infinite aisle'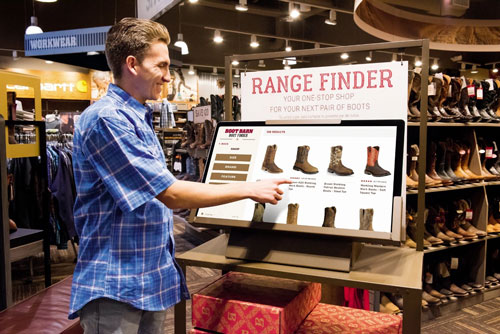 Brick-and-mortar retailers that know how to leverage physical space to optimize e-commerce sales are winning the race in meeting the needs of technology savvy shoppers.
Boot Barn, a specialty retailer which has 248 stores in 33 states, has optimized both in-store and e-commerce sales using interactive kiosks to provide an "infinite aisle" experience, allowing customers to browse the inventory of more than 8,000 styles of boots, jeans, shirts, hats, belts, jewelry and more. The brand specializes in western and work-related footwear, apparel and accessories for men, women and kids.
While the company's e-commerce business has grown from approximately $4 million in sales in 2010 to more than $125 million this year, in-store sales still account for 83% of all sales. In-store touchscreen kiosks play a major role in facilitating "infinite aisle" sales.
Kiosks enable the 'endless aisle'
Having an endless aisle of merchandise available in our stores via the kiosks allows our customers to find what they are looking for, regardless of whether it is physically available in our store or available online through our kiosks, John Hazen, chief digital officer, told Kiosk Marketplace. We believe these kiosks have helped us improve customer satisfaction in addition to better converting our store traffic into sales.
We offer our customers the breadth of our full e-commerce assortment, coupled with the service levels of a retail store environment, knowledgeable store associates, and expert advice on product fit and function, Hazen said. Customers in our stores can access millions of items in our e-commerce warehouse inventory as well as the inventory of our larger third party vendors, purchase these items in store, and ship to either the store or their home.
E-commerce orders are delivered from a dedicated fulfillment center in Wichita, Kansas. Some of these orders are drop shipped directly from third party vendors, while BOPIS orders are fulfilled from the stores' inventory.
Boot Barn can also leverage the kiosks for employee training, loyalty programs, promotional messaging, seasonal videos and brand advertisements.
Boot Barn taps Elo's technology
Boot Barn used Elo's 32-inch touchscreen and the Elo Backpack, an Android engine that transforms touchscreen monitors and signage displays into commercial-grade systems capable of running audio and video content, interactive HTML web pages and Android-based apps, said Raimon Chikhani, Elo's director of sales for the western region.
Boot Barn developed its own application software while Elo provided its device management and content deployment software, EloView. EloView software enables the retailer to make real time updates to devices in any location, deploy OS updates on their schedule and maintain visibility to device operational status 24/7.
The retailer implemented analytics in order to track, at the individual store level, how the screens are being used, said Chikhani. The retailer has found that customers spend 25% more time browsing products on Elo screens than before.
This demonstrates that shoppers enjoy both the interactivity and being inspired on the larger screen while they shop, and that the experience encourages further discovery, he said.

They (the kiosks) have really become the digital hub for our omnichannel experience, Hazen said. Any new digital experiences we build for the customer will live in the hub.
Returns stimulate new sales
The digital hub also includes the option to return merchandise to stores that was purchased online, which Hazen refers to as "BORIS." With the winter holiday season approaching, BORIS will play an important role, not only in allowing customers to return items, but to purchase more items.
Customers who make returns in our stores often make an additional purchase, Hazen said. More than two thirds of last year's holiday returns for bootbarn.com were done in store. BORIS offers our customers flexibility to return their online orders in their local store.

We believe that both of these initiatives (BOPIS and BORIS) have been a benefit to Boot Barn, he said. Again, two-thirds of folks returning via BORIS tells us there was, without question, a need. We are providing flexibility to our customers as to how they shop and return, while increasing traffic into our brick-and-mortar stores.
One of the best parts about the kiosk is the versatility it provides, Chikhani said. In addition to helping customers find what's available in store, Boot Barn can also enable the kiosks for employee training, endless aisle, buy-online-return-in-store, loyalty programs and brand advertisements.