January 21, 2020
Meet Elo at HIMSS 2020
< Go Back
Meet Elo at HIMSS 2020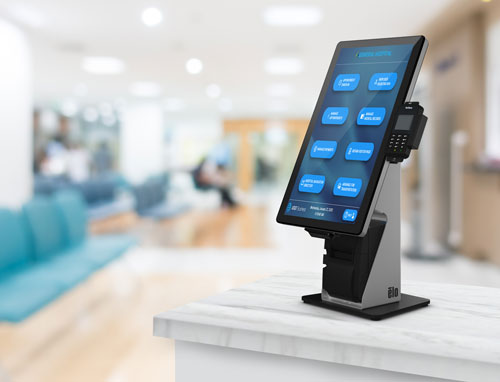 Elo offers interactive touchscreen solutions for a variety of healthcare and medical applications – from patient registration via self-service to in-room medical monitors for improved EMR capabilities. Elo delivers versatile technologies that enhance patient engagement while improving the clinical experience. Interested in learning more? Book a meeting with our medical solutions expert at HIMSS 2020.
Elo is an ideal fit for interactive healthcare and medical applications. Check out some of the application challenges our solutions solve below:
Elo medical touchscreens are IP54 certified and the power supply is IEC60601 compliant – a commercial-grade solution for medical carts and medical grade needs
Self-service made modern and easy for applications including patient check-in, patient payments and hospital wayfinding with touchscreen computers ranging in size from 7 to 65-inches. Learn more.
Augment nursing stations to simplify patient flow with interactive displays as easy to use as a mobile phone!
We look forward to seeing you at HIMSS 2020, March 9-13, 2020 in Orlando, FL!
- Your Elo Team