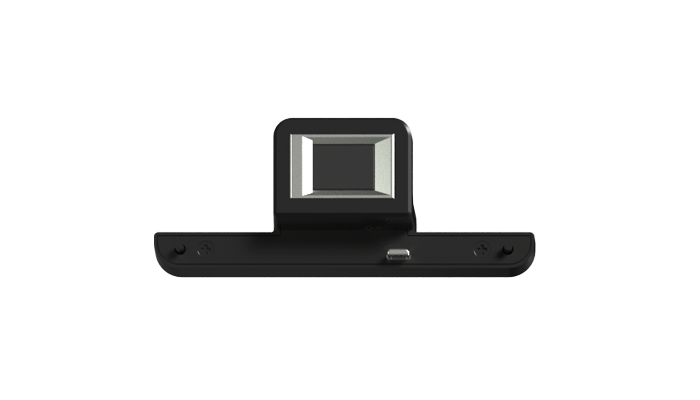 Elo Edge Connect™ Fingerprint Scanner
Elo's Fingerprint Scanner delivers a fast and reliable way to use biometric authentication for individuals who require access to a device or building. From patient and doctor authentication to employee login, the reader seamlessly integrates with a variety of Elo displays via Elo Edge Connect™ technology. By using a capacitive sensor for scanning, the Fingerprint Scanner can withstand up to four million touches - providing the durability you need with high quality scans time after time.
Specifications
Technical

---

Black - E134286
White (MTO) - E133591

Power Consumption (Typical)

Sleep mode: 1350 uA
Fast Imaging mode: 105 mA

12.8 x 18.0 mm / 256 x 360 pixels

Electrostatic Discharge (ESD)

I-Series for Android
I-Series for Windows (2.0)
EloPOS
Touchscreen Monitors - 1002L, 1302L, 1502L, 1902L, 2002L, 2202L, 2402L, 2702L
Touchscreen Signage - 3202L, 3203L, 4202L, 4602L, 5502L, 5553L, 6553L

4.70" x 1.72" x 0.99" / 119.6 mm x 43.7 mm x 25.3 mm

6.89" x 4.49" x 2.72" / 175 mm x 114 mm x 69 mm

10°C to 40°C / 50°F to 104°F

0°C to 50°C / 32°F to 122°F

Operating: 20% - 80%
Storage: 10% - 90%

Fingerprint Scanner
2 Mounting screws
2 Mylar screw covers
QIG
---
Get Started with Elo Today.