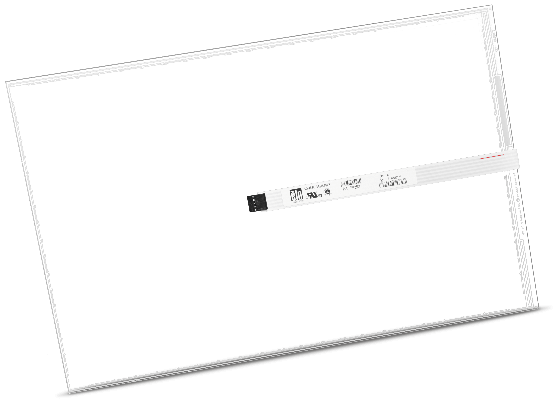 AccuTouch® 5-Wire Resistive, Bezel
Overview
AccuTouch touchscreens are based on proven five-wire resistive technology, the preferred solution for applications that demand reliability, input flexibility, and contamination resistance. The screens work with standard Elo controller/chip solutions and drivers under a wide variety of operating systems, and are available in a set of standard products as well as customized designs.
Smooth Integrations

AccuTouch resistive touchscreens are available with proprietary Elo technology to deliver a touch response that is drift-free and accurate in high-use applications. It's designed to be integrated into almost any bezeled application for Elo reliability and quality.

Quality is built in

Elo AccuTouch delivers both X and Y measurements made on a stable rear glass layer where many other resistive touchscreen designs use a flexing plastic coversheet to measure only one axis. As a result, AccuTouch resistive touchscreens provide a longer product life, designed to withstand more than 35 million touches.

High industry standards

AccuTouch touchscreens can be sealed against contamination to support NEMA 4/4x/12 and IP65 standards. Every screen meets pencil hardness 3H per ASTM D3363. Agency approvals include UL, cUL, TÜV, CE and FCC Class A.
Factory Video
Elo's new state of the art facility in Suzhou, China occupies a quarter of a million square feet and includes 155,000 square feet of manufacturing space with adjacent offices and warehouses. It is home to Elo's industry leading touchscreen solutions including AccuTouch 5-wire resistive, IntelliTouch surface acoustic wave and TouchPro projected capacitive touchscreens.

Elo is proud to be the only company in the world that produces its own touch screens, ASICs, firmware and software drivers in-house.
Applications
Point-of-sale (POS) terminals
Voting, ticket, and lottery terminals
Industrial automation/Industrial panel PC
Medical equipment
Office automation
Retail automation
Pharmacy automation
Specifications
Technical

---

5-Wire Resistive (AccuTouch®)

Finger
Gloved hand
Passive stylus

controller dimensions in inches

HL products: 80% ±5% at 550nm wavelength

AccuTouch Zero-Bezel: meets pencil hardness 4H per ASTM D3363

Can be sealed to meet NEMA 4 and 12 and IP 65 standards

Designed for indoor and semi outdoor environments. Not intended for applications with direct sunlight/UV exposure.

High Temp Storage: 70°C for 240 hours- after 24 hours, room temp and test; Low Temp Storage: -40°C for 240 hours, after 24 hours, room temp and test

Serial cable: P/N D16890-000
USB cable: P/N D38640-000
Dual serial/USB cable: P/N D40022-000
---
Resources
(5)
Additional Support Resources

Collateral

---

Touch Technology Comparison Chart

Compliance

---

Agency Approval Certificates

Specifications

---

Product Family Specification
Get Started with Elo Today.