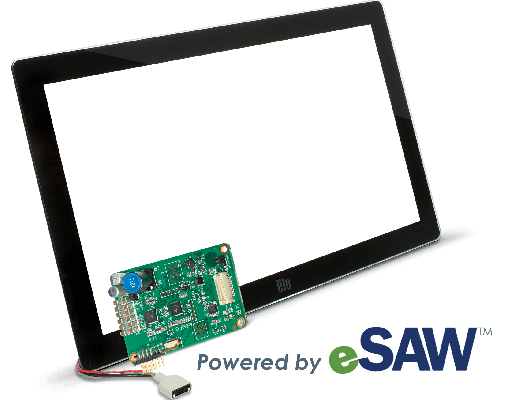 IntelliTouch® Surface Acoustic Wave, Zero-Bezel
Overview
Elo has revolutionized Surface Acoustic Wave technology with eSAW. Built into Elo's latest 3200 series advanced signal controller, eSAW offers industry leading touch sensitivity of 4x greater than its predecessor. Combining the enhanced touch performance of eSAW with the benefit of the optical clarity of a clear glass IntelliTouch® SAW touchscreen, yields a high performance 2-touch solution at a price well below that of traditional projected capacitive (PCAP) touchscreen.
Superior clarity and performance

SAW touchscreen technology delivers superior image clarity, resolution, light transmission, and reliability because it utilizes clear glass that continues to work even if scratched. There are no coatings, plastic films or moving parts to wear out or be damaged. The active area of the touchscreen is resistant to chemicals such as acetone, toluene, methyl ethyl ketone, isopropyl alcohol, methyl alcohol, ethyl acetate, ammonia-based glass cleaners, gasoline, kerosene, and vinegar.

Quality is built in

The stable, drift-free operation of Surface Acoustic Wave touchscreen technology provides an accurate touch response measured on three axes using a finger, gloved hand, or passive stylus. Elo's sensitive touch response recognizes location and amount of pressure applied. Elo has tested IntelliTouch touchscreens to more than 50 million touches in one location without failure, using a stylus simulating a finger.

Customizable

Customization capabilities include logos, clear icons, border buttons, and other enhancements can be added during the design cycle. IntelliTouch can scale across a wide range of screen sizes, without performance degradation.
Factory Video
Elo's new state of the art facility in Suzhou, China occupies a quarter of a million square feet and includes 155,000 square feet of manufacturing space with adjacent offices and warehouses. It is home to Elo's industry leading touchscreen solutions including AccuTouch 5-wire resistive, IntelliTouch surface acoustic wave and TouchPro projected capacitive touchscreens.

Elo is proud to be the only company in the world that produces its own touch screens, ASICs, firmware and software drivers in-house.
Applications
Desktop touchmonitors and all-in-one touchcomputers
Point-of-sale (POS) terminals
Gaming and lottery terminals
Point-of-information kiosks
Self-service/Self-automation
Public environments such as hotel lobbies, office buildings, auto dealerships, bank branches, gaming casinos, healthcare waiting rooms, retail stores and train stations
Specifications
Technical

---

eSAW (IntelliTouch® Surface Acoustic Wave)

Finger
Gloved hand
Passive stylus

controller dimensions in inches

Surface durability is that of glass, Mohs' hardness rating of 6.5

IntelliTouch Zero-Bezel touchscreen has been successfully integrated by integrators

6.19 points per mm typical (A/D sampling capability is extended by pattern recognition software)

Error is not greater than 2.5mm and typically much less with calibration to display image

under 1 ounce (15 grams) typical

-20°C to 70°C (Non Condensing)

-40°C to 85°C (Non Condensing)

60C at 80% RH for 240 hours

Serial cable: P/N D16890-000
USB cable: P/N D38640-000
Dual serial/USB cable: P/N D40022-000
---
Resources
(7)
Specifications

---

Product Family Specification

Integration Guide

Additional Support Resources

Collateral

---

Touch Technology Comparison Chart

Compliance

---

Agency Approval Certificates
Get Started with Elo Today.