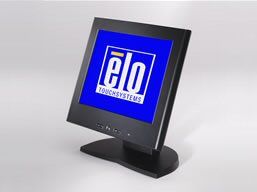 1224L 12" Touchscreen monitor (Discontinued April 2006)
Overview
Elo point-of-sale touchmonitors are perfect in applications where cost, rugged design, and flexibility are top criteria. Featuring AccuTouch® five-wire resistive touch technology, the most widely used technology for retail applications, Elo POS touchmonitors are proven to survive in harsh conditions. For example, liquid splashing, food and grease on the touchscreen, and aggressive cleaning are typical in convenience stores. The AccuTouch technology handles these conditions better than any other technology, at a competitive price. The 1224L is available with a standard pedestal base or a new easel base configuration. The easel base allows the user to adjust the screen to the optimal viewing height by extending the easel base on any flat surface.
Other Features
Economical and reliable
Up to 800 x 600 resolution
AccuTouch five-wire resistive technology with serial interface
Touch can be activated with fingernails, gloves, credit cards, or any stylus
Sealed touchscreen
Easel or pedestal base and VESA mounting option
Digital on-screen display (OSD)
Worldwide agency approvals
Specifications
Technical

---

AccuTouch (Serial, Antiglare, Worldwide) - 503800-000
AccuTouch (Serial, Antiglare, Worldwide) - 009234-000

Touch Technology & Capacity

5-Wire Resistive (AccuTouch®) - Single-Touch

12.1'' diagonal, Active matrix TFT LCD (LED)

9.7" x 7.3" / 246mm x 184.5mm

Other Supported Resolutions

800 x 600 at 56, 60, 72 or 75 Hz
720 x 400 at 70 Hz
640 x 480 at 60, 72 or 75 Hz
640 x 350 at 70 Hz

Horizontal: ±45° or 90° total / Vertical: 30°/10° or 40° total

LCD panel: 180 nits
AccuTouch: 135 nits

Response Time-total (typical)

OSD: brightness, contrast, phase, auto adjust, clock, color temperature, information, saturation, hue, flesh tones, OSD position, language (English, French, Deutsch, Spanish, Japanese), recall defaults

Input Video Signal Connector

Power Consumption (Typical)

Type: External power supply
Input (line) voltage: 100-240 VAC, 50-60 Hz
Output voltage/current: 12 VDC at 3.33 amps max.

Horizontal: 30-48 kHz / Vertical: 50-75 Hz

Horizontal and vertical, composite sync and sync-on-green

Monitor Dimensions (with Stand)

12.3" x 12.2" x 5.7" / 312mm x 310mm x 146mm

Operating: 20%-80%
Storage: 10%-90%
noncondensing

50,000 hours demonstrated

Mounting brackets included
Exclusive wiper blade for sealing
Easel or pedestal base
75 mm VESA mount

Min 40,000 hours to half brightness

Regulatory approvals and declarations

UL, cUL, FCC, CE, TÜV-GS, VCCI, C-Tick

A North American power cable and a European power cable are included. For touchmonitors being shipped to the United Kingdom, add a UK power cable at no cost by specifying part number 276875-000.

Optional Power Supply Brick

Elo P/N - C32542-000. Available at additional cost.

Touch/Video/Audio/Accessory Cables:

Detachable touch and video cables are included.
---
Get Started with Elo Today.