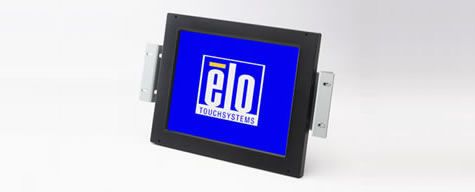 1247L 12.1" Touchscreen Monitor (Discontinued November 2005)
Overview
Elo chassis LCD monitors have a long-lasting product cycle because the enclosure is controlled by Elo specifications. Future panel improvements are therefore possible without external changes. The monitors are available with multiple touch technologies and all feature a unique, injection-molded minibezel and watertight seal, plus a multitude of mounting options.
Other Features
Higher brightness, better contrast, and wider viewing angle than most 12" LCDs (300 nits, 300:1, 120° x 90°)
Up to 800 x 600 resolution at 75 Hz
Long lasting product cycle-enclosure controlled by Elo specifications
Future generation panels phased-in without external changes
Integrated precision minibezel with watertight 0.5 mm seal
Multiple mounting options including rear-mount or VESA mount
IntelliTouch® Surface Wave Technology on pure glass for the ultimate in image quality
Finger or gloved hand operation
Serial touch interface
Multilingual remote on-screen display (OSD)
Worldwide agency approvals
3-D electronic design files available
Specifications
Technical

---

IntelliTouch (Antiglare, Worldwide) - D92310-000

Touch Technology & Capacity

SAW (IntelliTouch® Surface Acoustic Wave) - Single Touch

12.1'' diagonal, Active matrix TFT LCD (LED)

9.69" x 7.27" / 246 mm x 184.5 mm

Other Supported Resolutions

800 x 600 at 56, 60, 72 or 75 Hz
720 x 400 at 70 Hz
640 x 480 at 60, 66 Hz (Mac), 72 or 75 Hz
640 x 350 at 70 Hz

Horizontal: ±60° or 120° total / Vertical: 50°/40° or 90° total

16.2 million with dithering (6 bit)

LCD panel: 300 nits
IntelliTouch: 275 nits

Response Time-total (typical)

Input Video Signal Connector

Mini D-Sub 15-Pin VGA type

Type: External brick
Output voltage/current: 12 volts at 3.33 amps max

Horizontal: 31.5-48.1 kHz
Vertical: 56.3-75 Hz

Remote OSD with 1.8m cable

Remote OSD: minus (-), plus (+), down, up
OSD: contrast, brightness, autotune, quality (frequency, phase, track, text-graphics, return), position (horizontal, vertical, center, return), color (red, blue, green, return), language (English, Chinese, Japanese), recall, save exit, cancel exit

Monitor Dimensions (without Stand)

11.92" x 9.53" x 2.36" / 302.5 mm x 242 mm x 60 mm

Monitor Dimensions (with Stand)

14.14" x 9.53" x 2.36" / 359 mm x 242 mm x 60 mm

Operating: 20%-85%
Storage: 5%-95%
noncondensing

75 mm VESA mount
Mounting brackets included
Rear mount through bezel or with included brackets

ENERGY STAR
2 stage DPMS
VESA DDC Plug and Play

Minimum 50,000 hours to half brightness

Regulatory approvals and declarations

UL/cUL (*recognized component), FCC, TÜV-Bauart, CE, VCCI, C-Tick

A North American power cable and a European power cable are included.

For touchmonitors being shipped to the United Kingdom, add a UK power cable at no cost by specifying part number 276875-000.

Touch/Video/Audio/Accessory Cables:

Detachable touch and video cables are included
---
Get Started with Elo Today.