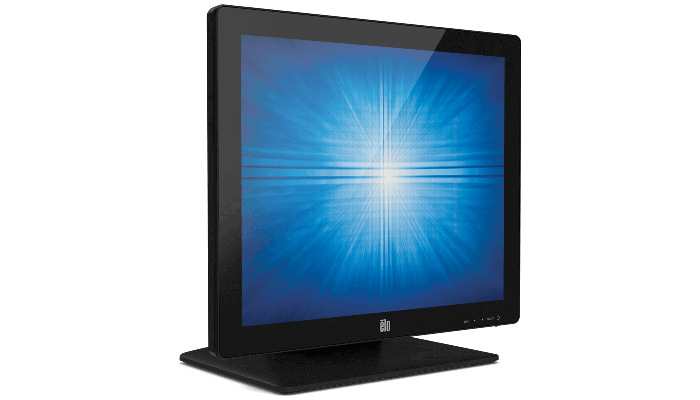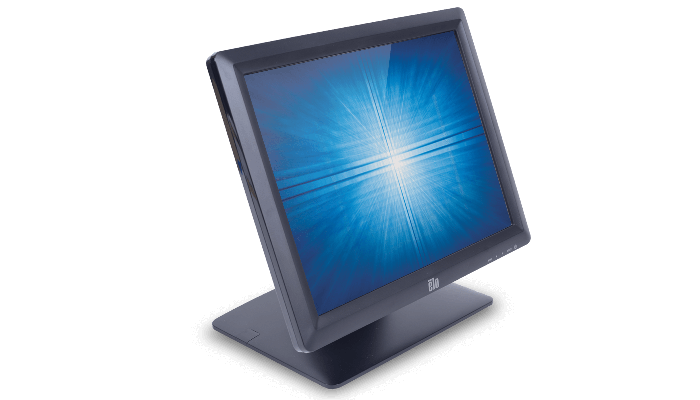 1517L 15" Touchscreen Monitor (Discontinued June 2014)
Overview
The 1517L zero-bezel touchmonitor is built to withstand the rigors of continuous public use with a rugged, "built for touch" industrial design. It delivers style and performance with a wide variety of features for a higher level of functionality. It is well suited for public venues where point-of-sale (POS), point-of-information (POI), point-of-service, shelf-level and countertop interactive digital signage, loyalty systems, kiosk information systems are found.
The optional 3-track magnetic stripe reader (MSR), programmable to either HID or Keyboard Emulation, is easily installed by the user, providing an elegant, integrated solution and eliminating the need for external brackets or attachments. The 1517L features two leading zero-bezel touch touchscreen technologies for a smooth, easy-clean surface: AccuTouch® five-wire resistive technology, the most widely used for retail applications and proven to survive splashing liquids, food and grease; IntelliTouch® surface acoustic wave (SAW) Z pure-glass with zero-bezel, for the ultimate in optical quality for dry retail and hospitality applications.
The 1517L Touchmonitor is environmentally friendly, lightweight and uses less power with state-of-the-art LED backlights in the display panels.
Features
High performance, flexible and reliable

Up to 1024 x 768 resolution at 60 Hz, 75 Hz
Available with AccuTouch five-wire resistive technology with zero-bezel (activated with fingernails, gloves, credit cards, or any stylus), IntelliTouch surface acoustic wave technology for superior image quality (activated with finger or glove)
Optional ergonomic 3 stripe MSR available in two versions: USB with keyboard emulation; USB with human interface device (HID) class specification 1.1 and a choice of optional customer displays
Sealed touchscreen
USB interface
Removable stand and VESA mounting option
Mounting holes on stand bottom for tabletop security
Controls on the side rather than the front, plus lockout function for public use
Digital on-screen display (OSD)
Worldwide agency approvals
Specifications
Technical

---

AccuTouch (Worldwide) - E247852
IntelliTouch (Worldwide) - E829550
IntelliTouch (Worldwide) - E291747


Touch Technology & Capacity

5-Wire Resistive (AccuTouch®) - Single-Touch
SAW (IntelliTouch® Surface Acoustic Wave) - Single Touch

15'' diagonal, Active matrix TFT LCD (LED)

12.0" x 9.0" / 304mm x 228 mm

Other Supported Resolutions

640x480 60Hz,75Hz
720x400 70Hz
800x600 56, 60Hz,75Hz
1024x768 60Hz,75Hz

Horizontal: ±80° or 160° total / Vertical: ±70° or 140° total

LCD panel: 250 nits
IntelliTouch: 225 nits
AccuTouch: 200 nits

Response Time-total (typical)

Controls: Menu, Up, Down, Select
Settings: Brightness, Contrast, Clock, Phase, H-position, V-position, Auto-Adjust, Aspect Ratio, Sharpness, Color Temperature, OSD Timeout, OSD Language, Recall Defaults
Languages: English, French, Italian, German, Spanish, Simplified Chinese, Traditional Chinese, Japanese
Lockouts: OSD, Power

Input Video Signal Connector

Mini D-Sub 15-Pin VGA type

Power Consumption (Typical)

External DC (power brick)

AC: 100-240 VAC, 50/60 Hz / DC: +12VDC ±5%

AC: IEC 60320 C6 / DC: Coaxial power jack (2 mm pin diameter, 6.4 mm barrel diameter, 8.8 mm barrel length)

Horizontal: 31.5-80kHz / Vertical: 56-75Hz

Monitor Dimensions (with Stand)

14.1" x 6.8" x 12.5" / 358 mm x 173 mm x 318 mm
Dimensions vary with stand position and options selected

17.2" x 14.6" x 7.7" / 436 mm x 370 mm x 195 mm

Shipping Weight (With stand)

0°C to 40°C / 32°F to 104°F

-20°C to 60°C / -4°F to 140°F

Operating: 20%-80%
Storage: 10%-90%

Touchscreen sealed to bezel
Touchscreen sealed to LCD

50,000 hours demonstrated

75 mm VESA mount
Threaded-through mounting holes, under stand

Regulatory approvals and declarations

Australia C-Tick, Canada cUL, IC, China CCC, Europe CE, Japan VCCI, Korea KCC, e-Standby, Mexico CoC, Taiwan BSMI Mark, United States UL, FCC, International CB

RoHS, China RoHS, WEEE, IMERC

Replacement DC Power Supply

The monitor may be powered with DC voltage. A replacement 12V DC power brick, part number E005277, is available at additional cost.

A North American and European power cables are included with the part numbers available in the regions other than EMEA. United Kingdom AC power cables are included with the part numbers available for the EMEA region.

China: Elo P/N - E030476
Japan: Elo P/N - E849156
Japan 3-pin to 2-pin adapter: Elo P/N - E351985
United Kingdom: Elo P/N - E235317
Taiwan: Elo P/N - E637694

Cable Kit for Replacement Cables

Elo P/N - E378229, available at additional cost.

Touch/Video/Audio/Accessory Cables:

Detachable touch and video cables are included.

Magnetic Stripe Reader (Black MSR) – Elo P/N: E500356
Magnetic Stripe Reader (White MSR) – Elo P/N: E233227

1517L VESA Mount Plate (White) - Elo P/N: E000420
1517L VESA Mount Plate (Black) - Elo P/N: E000404

Available at additional cost.
Stand 1517L (White): Elo P/N - E483197
Elo-Stand 1517L (Black): Elo P/N - E264383
---
Get Started with Elo Today.