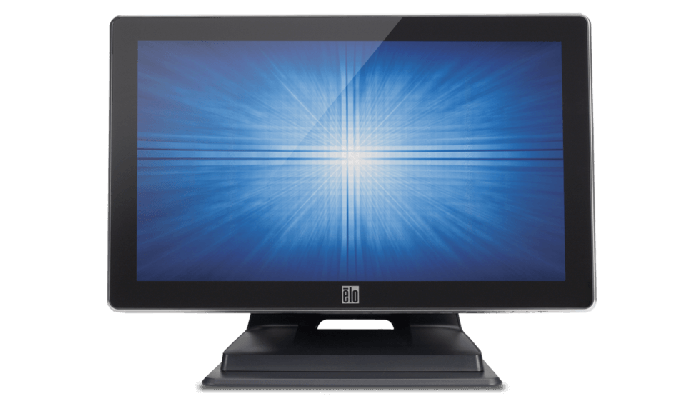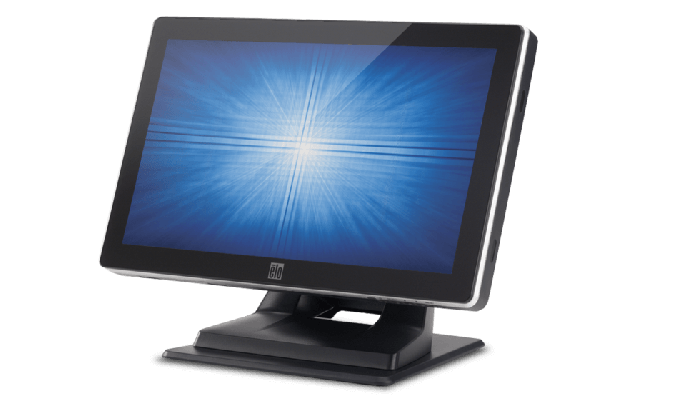 1519L 15" LCD Desktop Touchscreen Monitor (Discontinued March 2015)
Overview
The 1519L is a wide-screen display that is easier to use and incorporate into more environments than traditional desktop touchmonitors. It allows extra content on the screen and is well-suited for corporate environment uses such as publishing, and dual-window applications. The 1519L is available in five industry-leading Elo touch technologies: standard-bezel IntelliTouch® surface acoustic wave, zero-bezel AccuTouch® five-wire resistive, zero-bezel IntelliTouch and IntelliTouch Dual-touch surface acoustic wave and projected capacitive (PCAP) for multi-touch performance. Additional applications well-suited to take advantage of the monitor's features include point-of-sale (POS), point-of-information (POI), point-of-service, interactive digital signage, loyalty systems, kiosk information systems, light industrial shop-floor automation and home control.
Other features.
Wide-screen format provides more application space
Pure glass construction provides superior optical performance (PCAP, IntelliTouch, IntelliTouch ZB and IntelliTouch Dual-touch ZB touchscreens)
"Designed for touch" features such as a stable tilt stand
Space-saving built-in speakers
Sleek, integrated design offers a stylish look for public venues
User-lockable on-screen display – designed for public access
Can also be used in portrait mode
VESA compliance makes wall or arm-mounting possible
VGA video input
Screen is resistant to water, dust, grease
One-time factory calibration for easy deployment and integration (APR only)
Headphone jacks
Specifications
Technical

---

AccuTouch (Americas) - E732007
AccuTouch (China) - E612058
AccuTouch (EMEA) - E132100
AccuTouch (Japan) - E688298
AccuTouch (Americas) - E793496
Acoustic Pulse Recognition (China) - E819123
Acoustic Pulse Recognition (EMEA) - E525398
Acoustic Pulse Recognition (Japan) - E740169
Acoustic Pulse Recognition (Americas) - E883482
IntelliTouch (China) - E037021
IntelliTouch ZB (Japan) - E997831


Touch Technology & Capacity

5-Wire Resistive (AccuTouch®) - Single-Touch
SAW (IntelliTouch® Surface Acoustic Wave) - Single Touch
PCAP (TouchPro® Projected Capacitive) - 10 Touch
SAW ZB (IntelliTouch® Surface Acoustic Wave) - Single Touch
Acoustic Pulse Recognition - Single Touch

15.6'' diagonal, Active matrix TFT LCD (LED)

13.4" x 7.6" / 344mm x 194mm

Other Supported Resolutions

720 x 350 at 70Hz (may not display at full screen)
720 x 400 at 70Hz
640 x 480 at 60, 72, 75Hz
800 x 600 at 56, 60, 72, 75Hz
832 x 624 at 75Hz
1024 x 768 at 60, 70, 75Hz
1280 x 800 at 60 Hz
1280 x 960 at 60Hz
1280 x 1024 at 60, 75Hz
1360 x 768 at 60Hz
1366 x 768 at 60 Hz
1440 x 900 at 60 Hz
1600 x 1200 at 60 Hz
1680 x 1050 at 60 Hz



Horizontal: ±45° or 90° total / Vertical: -20°/+45° or 65° total

LCD panel: 250 nits
IntelliTouch: 225 nits
AccuTouch: 200 nits
Projected Capacitive (PCAP): 225 nits

Response Time-total (typical)

Controls: menu, up, down, select, power
Settings: automatic adjustment, contrast, brightness, H/V position, clock, phase, maintain aspect ratio, color temperature, OSD H/V position, OSD timeout, OSD rotation, OSD language (English, French, Italian, German, Spanish, Japanese, Traditional Chinese, Simplified Chinese), Recall Defaults, Sharpness, Volume, Mute
Languages: English, French, Italian, German, Spanish, Japanese, Traditional Chinese, Simplified Chinese
Lockouts: power, user controls

1Vrms maximum stereo signal (standard PC line out)

Headphone Output Connector

3.5mm TRS jack x 2, wired in parallel

Delivers 90mW of power into a single 32-ohm stereo load (for 1KHz signal)

Input Video Signal Connector

Mini D-sub 15-pin VGA type

Power Consumption (Typical)

Monitor only, no audio: 15.6 W
Monitor plus AC/DC Adapter at 230V/50 Hz, no audio: 18.4W

Coaxial power jack (Barrel inner diameter: 6.4 ± 0.3mm. Pin outer diameter: 2.0 + 0.0-0.1mm. Barrel depth: 8.8 ± 0.3mm)

Horizontal: 30-83 kHz / Vertical: 50-75 Hz

Adapter Input Voltage Range

Monitor Dimensions (with Stand)

15.1" x 8.4" x 10.9" / 383mm x 213mm x 277mm

18.7" x 13.8" x 8.86" / 47.5cm x 35.0cm x 22.5cm

Shipping Weight (With stand)

0°C to 40°C / 32°F to 104°F

-20°C to 60°C / -4°F to 140°F

Operating: 20%-80%
Storage: 10%-90%

Operating: 0m-3,658m / 12,000 ft.
Storage: 0m-12,192m / 40,000 ft.

Touchscreen sealed to bezel
Touchscreen sealed to LCD

50,000 hours demonstrated

Tilt, pivot (landscape/portrait mode)

With provided stand (on flat surface or bolted to surface via holes in base) in landscape or portrait mode
75 mm VESA mount

Regulatory approvals and declarations

North America/Worldwide: USA UL, Canada cUL, Mexico NOM, CB
South America: Argentina S-mark
Asia: China CCC, Japan VCCI, Korea KC, Korea KKC, Taiwan BSMI
Elo Declarations: RoHS, China RoHS, WEEE, IMERC, CE

Optional IntelliTouch Stylus Pen

D82064-000, available at additional cost.

Magnetic Stripe Reader (MSR) – Elo P/N: E039290
North America Power Brick - Elo P/N: E348315
Europe Power Brick - Elo P/N: E162361
UK Power Brick - Elo P/N: E334749
China Power Brick - Elo P/N: E834397
Taiwan Power Brick - Elo P/N: E953228
Korea Power Brick - Elo P/N: E986605
Japan Power Brick - Elo P/N: E033396
Argentina Power Brick - Elo P/N: E707702

Tabletop Stand for 22'' I-Series (100mm VESA) - Elo P/N: E044356
---
Get Started with Elo Today.