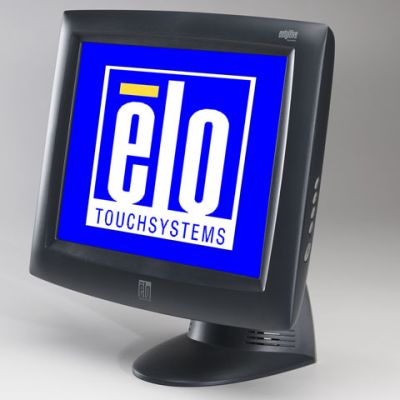 1525L 15" Hi-Bright Touchscreen Monitor (Discontinued October 2005)
Overview
The 1525L was designed from a blank sheet of paper to address the key needs of touch applications, resulting in a product that can truly be called "designed for touch." It has a unique combination of flexibility, reliability, performance, ease-of-use and installation, all with a distinctive visual appeal.
Other features.
"Designed for touch" features such as a stable tilt base
Cables hidden from user's view
Built-in speakers located in display head
Available with surface capacitive touch technology
Dual serial/USB interface
Controls on the side rather than the front, plus lockout function for public use
Multilingual on-screen display (OSD) with extras including speaker volume, treble, bass, and balance
Internal power supply
Long-lasting product cycle
Worldwide agency approvals
Specifications
Technical

---

Surface capacitive (Dual serial/USB, Antiglare, Worldwide) - E074047


Touch Technology & Capacity

Surface Capacitive (SCAP) - Single Touch

15'' diagonal, Active matrix TFT LCD (LED)

11.9" x 8.9" / 304 mm x 228 mm

1024 x 768 at 60, 70 or 75 Hz

Horizontal: ±70° or 140° total / Vertical: 65°/60° or 125° total

16.2 million with dithering (6 bit)

LCD panel: 400 nits
Surface Capacitive: 316 nits

Response Time-total (typical)

Analog (no proprietary video card needed)

Input Video Signal Connector

Mini D-Sub 15-Pin VGA type

Type: Internal power supply

Horizontal: 31.5-60 kHz / Vertical: 56-75 Hz

Two built-in, rear-facing 1W speakers in display head

Side: auto, enter, ±, menu, power
OSD: contrast, brightness, H/V position, color, temperature, clock, phase, recall, OSD time
Languages: English, German, Spanish, Japanese, French
OSD disable/enable: power, volume, and/or OSD menu

Monitor Dimensions (with Stand)

15.37" x 15.40" x 8.2" / 390mm x 391mm x 208mm

Regulatory approvals and declarations
---
Resources
(1)
Additional Support Resources
Get Started with Elo Today.