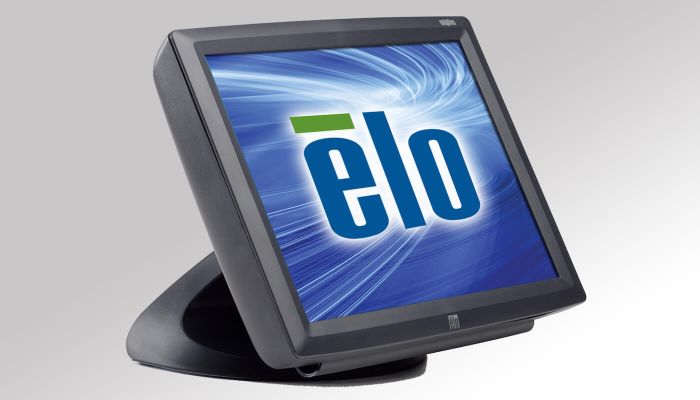 1529L 15" Touchscreen Monitor (Discontinued October 2012)
Overview
The Elo 1529L touchmonitor expands the company's family of reliable, easily integrated, multifunction touch solutions and is now available with the new breakthrough Elo touch technology, Acoustic Pulse Recognition. The retail-rugged 1529L includes options for a magnetic stripe reader (MSR). The 1529L has been designed for touch from the ground up, with such features as spill-resistant sealing, a short or tall stable tilt stand that is removable or reversible for wall mounting, connectivity incorporated within the monitor, and a choice of Elo touch technology as well as color.
Other features.
Economical and reliable
Up to 1024 x 768 resolution at 75 Hz
Available with AccuTouch® Five-Wire Resistive Technology (activated with fingernails, gloves, credit cards, or any stylus), IntelliTouch® Surface Wave Technology for superior image quality (activated with finger or glove), or Acoustic Pulse Recognition Technology
Optional ergonomic 3 stripe MSR available in two versions: USB with keyboard emulation; and USB with human interface device (HID) class specification 1.1
Sealed touchscreen
Dual serial/USB interface
Removable stand and VESA mounting option
Mounting holes on stand bottom for tabletop security
Controls on the side rather than the front, plus lockout function for public use
Digital on-screen display (OSD)
Internal power supply
Worldwide agency approvals
Specifications
Technical

---

AccuTouch (USB, Antiglare, Worldwide) - E564135
AccuTouch (USB, Antiglare, Worldwide) - E580588
Acoustic Pulse Recognition (USB, Antiglare, Worldwide) - E353946
Acoustic Pulse Recognition (USB, Antiglare, Worldwide) - E680845
Acoustic Pulse Recognition (USB, Antiglare, Worldwide) - E700641
Acoustic Pulse Recognition (USB, Antiglare, Worldwide) - E700641
CarrollTouch (Serial/USB, Antiglare, Worldwide) - E392726

Touch Technology & Capacity

5-Wire Resistive (AccuTouch®) - Single-Touch
Acoustic Pulse Recognition - Single Touch
CarrollTouch Infrared Technology

15'' diagonal, Active matrix TFT LCD (LED)

12.0" x 9.0" / 304 mm x 228 mm

Other Supported Resolutions

1024 x 768 at 60, 65, 70 or 75 Hz
832 x 624 at 75 Hz
800 x 600 at 56, 60, 72 or 75 Hz
720 x 400 at 70 Hz
720 x 350 at 70 Hz
640 x 480 at 60, 66 Hz (Mac), 72 or 75 Hz

Horizontal: ±70° or 140° total / Vertical: ±60° or 120° total

LCD panel: 350 nits
AccuTouch: 280 nits
Acoustic Pulse Recognition: 322 nits
CarrollTouch: 322 nits

Response Time-total (typical)

USB: E564135, E580588, E353946, E680845, E700641, E700641
Serial/USB: E392726


Controls (side): menu, up, down, select, power
Settings: contrast, brightness, V-position, H-position, RGB, volume, YUV, phase, clock, OSD H-position, OSD V-position, OSD time, auto adjust, input select
Languages: English, French, German, Spanish, Japanese
Lockouts: power, user controls

Two watt/channel speakers located in display head

Input Video Signal Connector

Mini D-Sub 15-Pin VGA type, DVI-D connector

Power Consumption (Typical)

Monitor: 20 W
USB magnetic stripe reader: 0.5 W
2 USB external ports power when loaded: 5 W
Total with all possible accessories: 31 W

Internal AC, Optional external DC (power brick)

AC: 90-265 VAC, 50/60 Hz; DC: 12.0V ± 0.75V

AC: IEC 60320 C6; DC: Coaxial power jack (2 mm pin diameter, 6.4 mm barrel diameter, 8.8 mm barrel length)

Horizontal: 31-60 kHz / Vertical: 56-75 Hz

Monitor Dimensions (with Stand)

14.0" x 11.3" x 10.4" / 355mm x 286mm x 265mm

Tall stand: 21.65" x 19.69" x 11.02" / 550mm x 500mm x 280mm
Short stand with scanner: 21.65" x 13.58" x 16.73" / 550mm x 345mm x 425mm
Short stand: 19.09" x 13.00" x 16.73" / 485mm x 330mm x 425mm

Short stand: 14.4 lbs / 6.6 kg

Shipping Weight (With stand)

Short stand: 21.2 lbs / 9.6 kg

0°C to 40°C / 32°F to 104°F

-20°C to 60°C / -4°F to 140°F

Operating: 20-80%
Storage: 5-95%
noncondensing

Touchscreen sealed to bezel
Touchscreen sealed to LCD

50,000 hours demonstrated

Tilt, removable, reverse (wall mount), short or tall stand

Energy save mode (less than 2 watts)
2 stage DPMS
VESA DDC Plug and Play
Security lock receptacle
Two external USB ports

Regulatory approvals and declarations

UL, cUL, FCC-A, Semko, CE, VCCI, C-Tick

North American and European AC power cables are included.

For touchmonitors being shipped to the United Kingdom, add a UK AC power cable at no cost by specifying Elo P/N: E540272.

AC power cables for power brick are also available at additional cost:
United States: Elo P/N: E042259
Europe: Elo P/N: E690013
United Kingdom: Elo P/N: E235317

Optional Power Supply Brick

The monitor may also be powered with DC voltage. An optional 12V DC power brick, Elo P/N: E137360, is available at additional cost.

Optional Acoustic Pulse Recognition (APR) Stylus Pen

E963860, available at additional cost.

Touch/Video/Audio/Accessory Cables:

All appropriate cables are included and are detachable.

Short Desktop stand (Dark gray) - Elo p/n: E252977
Tall Desktop stand (Dark gray) - Elo p/n: E930466
Short Desktop stand (Beige) - Elo p/n: E819036
Tall Desktop stand (Beige) - Elo p/n: E024520
1529L VESA Plate – Elo p/n: E295293
---
Get Started with Elo Today.