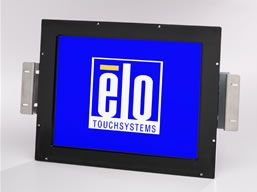 1547L 15" Rear-Mount Touchscreen Monitor (Discontinued August 2006)
Overview
Elo chassis LCD monitors have a long-lasting product cycle because the enclosure is controlled by Elo specifications, enabling future panel improvements without external changes. The monitors are available with multiple touch technologies and all feature a unique, injection-molded minibezel and watertight seal, plus a multitude of mounting options. The 1547L has the same form factor as the 1546L and 1549L wide viewing angle model, offering customers a choice of panel specifications.
The 1547L is available with Elo projected capacitive technology, which enables touches to be sensed through a protective layer in front of the display. The DirectTouch model includes a 7.8 mm sensor with tempered glass outer layer and a minibezel with watertight seal. ThruTouch touchmonitors include only the touch sensor layer and are designed to work behind customer-supplied non-metallic materials (e.g., a store window, vandal-resistant materials up to 18 mm thick, oversized glass). ThruTouch offers true flat surfaces without bezels, as well as unsurpassed resistance to impacts, scratches and vandalism commonly found in public-access applications.
Other Features
Long lasting product cycle-enclosure controlled by Elo specifications
Future generation panels phased-in without external changes
Integrated precision minibezel with watertight 0.5 mm seal
Multiple mounting options including rear-mount, VESA mount, and front/panel-mount bezels or 19" rack-mount bezel
Choice of touch technologies: AccuTouch® Five-Wire Resistive, CarrollTouch Infrared Technology, IntelliTouch® Surface Wave, Projected Capacitive, impact resistant SecureTouch Surface Wave, or Surface Capacitive.
Dual serial/USB interface for selected touch technologies
Multilingual remote on-screen display (OSD)
Internal power supply
Worldwide agency approvals
3-D electronic design files available
Specifications
Technical

---

AccuTouch (Dual serial/USB Interface) - C32978-000
CarrollTouch (Serial Interface) - 387888-000
CarrollTouch (USB Interface) - F10657-000
IntelliTouch (Dual serial/USB Interface) - 576426-000
Projected Capacitive/DirectTouch (Serial Interface) - F60749-000
Projected Capacitive/ThruTouch (Serial Interface) - A71384-000
SecureTouch 0.25" (6 mm) (Dual serial/USB Interface) - A65349-000
Surface capacitive (Dual serial/USB Interface) - C59911-000

Touch Technology & Capacity

5-Wire Resistive (AccuTouch®) - Single-Touch
SAW (IntelliTouch® Surface Acoustic Wave) - Single Touch
PCAP (TouchPro® Projected Capacitive) - 10 Touch
SAW (SecureTouch® Surface Acoustic Wave) - Single Touch
Surface Capacitive (SCAP) - Single Touch
CarrollTouch Infrared Technology

Projected Capacitive/ThruTouch: 2.52" / 64 mm
Other monitors: 2.83" / 72 mm

11.9" x 8.9" / 304 mm x 228 mm

1024 x 768 at 60, 70 or 75 Hz

Other Supported Resolutions

1024 x 768 at 65 Hz (Sun)
832 x 624 at 75 Hz (Mac)
800 x 600 at 56, 60, 72 or 75 Hz
720 x 400 at 70 Hz
720 x 350 at 70 Hz
640 x 480 at 60, 66 (Mac), 72 or 75 Hz

Horizontal: ±75° or 150° total / Vertical: 50°/75° or 125° total

LCD panel: 350 nits
AccuTouch: 287 nits
CarrollTouch: 322 nits
IntelliTouch: 322 nits
Projected capacitive/DirectTouch: 298 nits
Projected capacitive/ThruTouch: 315 nits (brightness will vary with different materials)

Response Time-total (typical)

Remote OSD with 1.8m cable

Remote OSD: Auto/Sel, up, down, menu
OSD: contrast, brightness, H/V position, color temperature, clock, phase, recall default, OSD H/V position, OSD time, auto adjust, language (English, French, German, Spanish, Japanese), image information
OSD disable/enable: power, volume, and/or OSD menu

Analog (no proprietary video card needed)

Input Video Signal Connector

Mini D-Sub 15-Pin VGA type

Power Consumption (Typical)

Type: Internal power supply
Input (line) voltage: 100-240 VAC, 50-60 Hz

Horizontal: 31.5-60 kHz
Vertical: 56-75 Hz

Monitor Dimensions (without Stand)

Projected Capacitive/ThruTouch: 18.1" x 11.5" / 460 mm x 293 mm
Other monitors: 18.1" x 11.6" / 460 mm x 296 mm

Projected Capacitive/DirectTouch: 12.1 lbs / 5.5 kg
Projected Capacitive/ThruTouch actual: 11.6 lbs / 5.3 kg
Other monitors: 10.85 lbs / 4.92 kg

Projected Capacitive/DirectTouch: 18.7 lbs / 8.5 kg
Projected Capacitive/ThruTouch: 18.2 lbs / 8.3 kg
Other monitors: 16.90 lbs / 7.66 kg

Operating: 20%-80%
Storage: 5%-95%
noncondensing

40,000 hours demonstrated

75 mm VESA mount
Panel cut-out
Mounting brackets included
19" rack-mount option (not available for Projected Capacitive/ThruTouch)
Panel-mount option (not available for Projected Capacitive)

Regulatory approvals and declarations

UL/cUL, TÜV-GS, CE, FCC/IC/VCCI/C-Tick Class B

A North American power cable and a European power cable are included. For touchmonitors being shipped to the United Kingdom, add a UK power cable at no cost by specifying part number 276875-000

Touch/Video/Audio/Accessory Cables:

Detachable touch and video cables are included
---
Get Started with Elo Today.