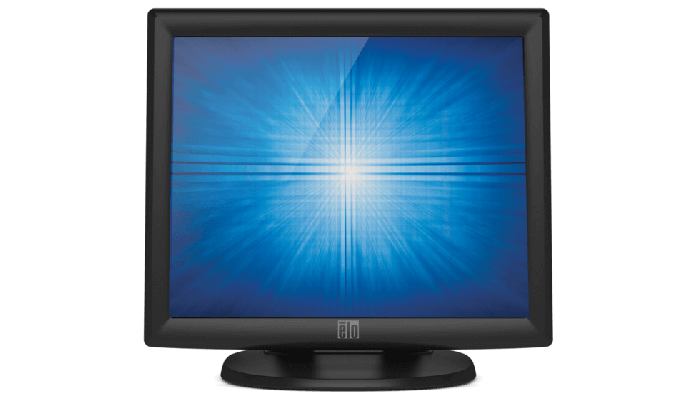 1715L 17" Touchscreen Monitor (Discontinued April 2006)
Overview
The 1715L touchmonitor is designed, developed and built to provide the most cost-effective touch solutions for system integrators and VARs. It packs Elo quality and reliability into an integrated, affordable touchmonitor.
Other features.
Entry-level monitor with Elo quality
"Designed for touch" features such as a stable tilt base
Long-lasting product cycle
Available with IntelliTouch® Surface Wave Technology
Sealed touchscreen
Dual serial/USB interface
Removable base and VESA mounting option
Mounting holes on base bottom for tabletop security
Controls on the side rather than the front, plus lockout function for public use
Digital on-screen display (OSD)
Worldwide agency approvals
Specifications
Technical

---

IntelliTouch (Antiglare, Worldwide) - C20990-000

Touch Technology & Capacity

SAW (IntelliTouch® Surface Acoustic Wave) - Single Touch

17'' diagonal, Active matrix TFT LCD (LED)

13.3" x 10.6" / 338mm x 270mm

Other Supported Resolutions

1280 x 1024 at 60 or 75 Hz
1280 x 960 at 60 Hz
1152 x 864 at 75 Hz
1024 x 768 at 60, 65 Hz (Sun), 70 or 75 Hz
832 x 624 at 75 Hz (Mac)
800 x 600 at 56, 60, 72 or 75 Hz
720 x 400 at 70 Hz
720 x 350 at 70 Hz
640 x 480 at 60, 66 Hz (Mac), 72 or 75 Hz

Horizontal: ±70° or 140° total / Vertical: 63°/60° or 123° total

LCD panel: 250 nits
IntelliTouch: 230 nits

Response Time-total (typical)

Dual serial/USB: C20990-000

OSD buttons: menu, up, down, select, power
OSD: contrast, brightness, H/V position, RGB (color temp), clock, phase, recall,
Languages: English, German, Spanish, Japanese, French
OSD disable/enable: power, OSD menu

Input Video Signal Connector

Mini D-Sub 15-Pin VGA type

Power Consumption (Typical)

Internal, with jack to accept power from optional external brick

AC: 100-240 VAC, 50/60 Hz; DC: +12 VDC ±5%

Horizontal: 31.5-80 kHz / Vertical: 56.3-75 Hz

Separate horizontal and vertical sync, composite sync and sync-on-green

Monitor Dimensions (with Stand)

15.4" x 8.0" x 14.4" / 391mm x 203mm x 366mm

Operating: 20%-80%
Storage: 10%-90%
noncondensing

50,000 hours demonstrated

Threaded-through mounting holes, under base
Removable base, 100 mm VESA mount

Typical 30,000 hours to half brightness

Regulatory approvals and declarations

UL, cUL, FCC, CE, TÜV-GS, VCCI, IC, C-Tick

A North American power cable and a European power cable are included. For touchmonitors being shipped to the United Kingdom, add a UK power cable at no cost by specifying
Elo p/n: D20295-000.

Optional Power Supply Brick

Elo p/n: E714990, available at additional cost. Power cables for power brick, also available at additional cost:
United States: Elo p/n: E61011-000
European: Elo p/n: D21505-000
United Kingdom: Elo p/n: 276875-000

Touch/Video/Audio/Accessory Cables:

Detachable touch and video cables are included.

Magnetic Stripe Reader (Dark Gray MSR) – Elo P/N: E963462
---
Get Started with Elo Today.