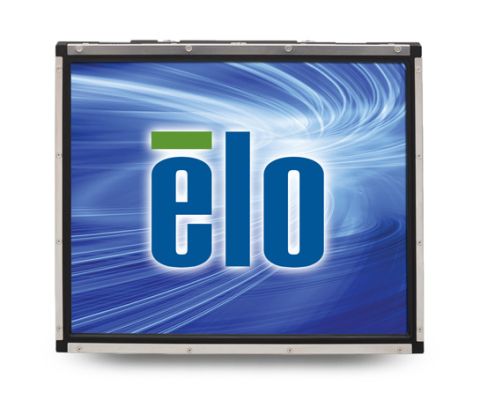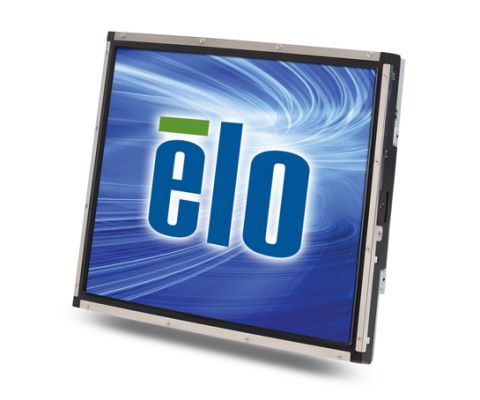 1739L 17" Open Frame Touchscreen (Discontinued September 2015)
Overview
Elo Open Frames Touchscreens have a long-lasting product cycle because the enclosure is controlled by Elo specifications. Future panel improvements are therefore possible without external changes. The 1739L features a wide viewing angle panel along with a unique, injection-molded mini-bezel and virtually invisible water-resistant seal.
The 1739L is available with a choice of touch technology, with single touch and multi touch options and in standard bezel and seamless, zero-bezel touchscreen design.
Other Features
High quality energy-saving LED panel
Long lasting product cycle-enclosure controlled by Elo specifications
Future generation panels phased-in without external changes
Integrated precision mini-bezel with water-resistant 0.5 mm seal
Mounting options including rear-mount (two standard rear-mount brackets included) and VESA mount; optional front mount (see Accessories tab for details) and rack mount (see Accessories tab for details)
Multilingual on-screen display (OSD)
Worldwide agency approvals
3-D electronic design files available
Specifications
Technical

---

CarrollTouch (Antiglare, Worldwide) - E964551

Touch Technology & Capacity

CarrollTouch Infrared Technology

17'' diagonal, Active matrix TFT LCD (LED)

Controls (optional remote with 1.8m cable): Auto/Sel, up, down, menu
Controls (back): menu, left, right, select, power
Settings: contrast, brightness, H/V position, RGB (color temp), clock, phase, recall
Languages: English, German, Spanish, Japanese, French
Lockouts: power, user controls

13.3" x 10.6" / 338 mm x 270 mm

Other Supported Resolutions

1280 x 1024 at 60, 70 or 75 Hz
1280 x 960 at 60 Hz
1152 x 864 at 75 Hz
1024 x 768 at 60, 65 (Sun), 70 or 75 Hz
832 x 624 at 75 Hz (Mac)
800 x 600 at 56, 60, 72 or 75 Hz
720 x 400 at 70 Hz
720 x 350 at 70 Hz
640 x 480 at 60, 66 (Mac), 72 or 75 Hz

Horizontal: ±85° or 170° total / Vertical: ±80° or 160° total

LCD panel: 250 nits
CarrollTouch: 225 nits

Response Time-total (typical)

Analog VGA and digital DVI

Input Video Signal Connector

Female DE-15 connector, Female DVI-D, Dual-Link connector

External DC - Optional power brick (sold separately)

Input power connector (Monitor)

Type: DC Barrel Jack
Barrel inner diameter: 6.4mm (+/- 0.3mm)
Pin outer diameter: 2.0mm (+0.0 -0.1mm)
Barrel depth: 8.8mm (+/- 0.3mm)

Power connector (Power brick)

Type: DC Barrel Plug
Barrel outer diameter: 5.5mm (+/- 0.1mm)
Pin inner diameter: 2.1mm (+/-0.1mm)
Barrel length: 9.5mm (+/- 0.5mm)

Horizontal: 31.5-80.0 kHz
Vertical: 56.3-75 Hz

Power Consumption (Typical)

Monitor only: 20 W
Monitor and power brick: 22 W

Bezel: 14.5" x 12.0" x 1.9" / 368 mm x 306 mm x 49 mm
Zero-bezel: 15.6" x 13" x 1.8" / 397mm x 332mm x 46.4mm

Bezel: 18.11" x 16.10" x 6.89" / 460 mm x 410 mm x 175 mm
Zero-bezel: 18.1" x 15.7" x 6.1" / 460 mm x 400 mm x 155 mm

0°C to 40°C / 32°F to 104°F

-20°C to 60°C / -4°F to 140°F

Operating: 20%-80%
Storage: 10%-90%

Touchscreen sealed to bezel
Touchscreen sealed to LCD

50,000 hours demonstrated

Regulatory approvals and declarations

North America/Worldwide: UL/cUL (Recognized), TÜV T-Mark, Argentina S-Mark, MPR II, CE, FCC, VCCI, IC, C-Tick (Class B), BSMI Mark, MIC, CCC, China RoHS

75 mm or 100 mm VESA mount
Rear mount or with included standard mounting brackets
Front mount with optional bezel (see Accessories tab for details)
Rack mount with optional bracket (see Accessories tab for details)

Options / Peripherals / Upgrades

North America power brick - Elo P/N: E005277
European & Korea power brick - Elo P/N: E571601
UK power brick - Elo P/N: E180092
China power brick - Elo P/N: E558862
Taiwan power brick - Elo P/N: E818655
Japan power brick - Elo P/N: E182546
Argentina power brick - Elo P/N: E887099
IntelliTouch Stylus Pen - Elo P/N: D82064-000
Elo 17-inch & 19-inch L-Bracket- Elo P/N: E147211
Elo 17-inch - Front-mount Bezel - Elo P/N: E860319 (See Mounting Options Spec for Compatibility)
Elo 17-inch - Rack-mount Bracket - Elo P/N: E939253 (See Mounting Options Spec for Compatibility)
Elo Remote OSD (With 1.8 m cable) - Elo P/N: E622897

Touch/Video/Audio/Accessory Cables:

Detachable touch and video cables are included

Optional IntelliTouch Stylus Pen

Stylus pen with rubber tip, designed specifically for use with IntelliTouch SAW touch technology. Part number D82064-000, available at additional cost
---
Get Started with Elo Today.