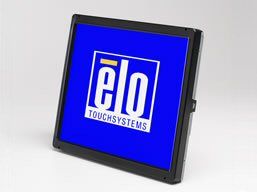 1746L 17" Touchscreen Monitor (Discontinued August 2006)
Overview
Elo chassis LCD monitors have a long-lasting product cycle because the enclosure is controlled by Elo specifications. Future panel improvements are therefore possible without external changes. The monitors feature clear glass IntelliTouch® surface wave technology for the utmost in optical quality, along with a unique, injection-molded minibezel and virtually invisible watertight seal. The 1746L has the same form factor as the 1749L wide viewing angle model, offering customers a choice of panel specifications.
Features
Long lasting product cycle-enclosure controlled by Elo specifications
Future generation panels phased-in without external changes
Integrated precision minibezel with watertight 0.5 mm seal
Mounting options including rear-mount and VESA mount
IntelliTouch Surface Wave touch technology with dual serial/USB touch interface
Multilingual remote on-screen display (OSD)
Worldwide agency approvals
3-D electronic design files available
Specifications
Technical

---

IntelliTouch (Antiglare, Worldwide) - A36843-000

Touch Technology & Capacity

SAW (IntelliTouch® Surface Acoustic Wave) - Single Touch

17'' diagonal, Active matrix TFT LCD (LED)

13.3" x 10.6" / 338 mm x 270 mm

Other Supported Resolutions

1280 x 960 at 60 Hz
1152 x 864 at 75 Hz
1024 x 768 at 60, 65 (Sun), 70 or 75 Hz
832 x 624 at 75 Hz (Mac)
800 x 600 at 56, 60, 72 or 75 Hz
720 x 400 at 70 Hz
720 x 350 at 70 Hz
640 x 480 at 60, 66 Hz (Mac), 72 or 75 Hz

Horizontal: ±70° or 140° total / Vertical:67/63° or 130° total

16.2 million with dithering (6 bit)

LCD panel: 260 nits
IntelliTouch: 239 nits

Response Time-total (typical)

Analog (no proprietary video card needed)

Input Video Signal Connector

External brick, 100-240 VAC, 50-60 Hz

Horizontal: 31.5-80 kHz
Vertical: 56.3-75 Hz

Separate horizontal and vertical sync, composite sync and sync-on-green

Power Consumption (Typical)

Remote OSD with 1.8m cable

Remote OSD: Auto/Sel, down, up, menu
OSD: contrast, brightness, V/H position, recall default, RGB, OSD exit, sharpness, phase, clock, OSD H/V position, OSD time, auto adjust, OSD language (English, German, Spanish, Japanese, French), input select

Monitor Dimensions (without Stand)

14.6" x 12.4" x 2.1" / 371 mm x 315 mm x 53 mm

Monitor Dimensions (with Stand)

15.4" x 13.2" x 2.1" / 391 mm x 335 mm x 53 mm

Operating: 20%-80%
Storage: 10%-90%
noncondensing

100 mm or 75 mm VESA mount
Rear mount from top/bottom or left/right
Mounting brackets included

Typical 40,000 hours to half brightness

Regulatory approvals and declarations

UL, cUL, FCC, IC, CE, TÜV-GS, VCCI, C-Tick

A North American power cable and a European power cable are included. For touchmonitors being shipped to the United Kingdom, add a UK power cable at no cost by specifying part number 276875-000

Optional Power Supply Brick

E714990. Available at additional cost

Touch/Video/Audio/Accessory Cables:

Detachable touch and video cables are included
---
Get Started with Elo Today.