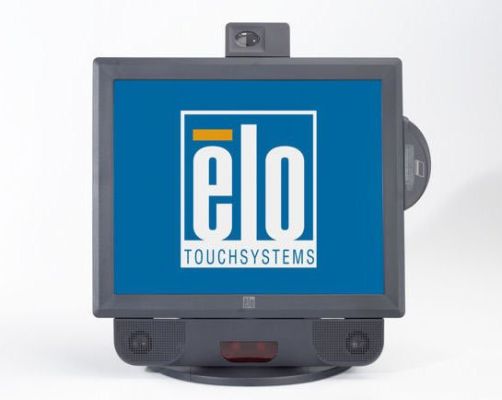 17A2 17" Touchcomputer (Discontinued April 2010)
Overview
Expanded versatility, bigger screen, and improved serviceability, all in a compact design: the 17A2 17" LCD all-in-one touchcomputer provides an attractive ultra-compact 17" touch solution that can fit virtually anywhere in any point-of-service environment.
The 17A2 touchcomputer with dual video display capability includes a choice of touch technologies: AccuTouch® five-wire resistive, IntelliTouch® surface acoustic wave and the company's innovative Acoustic Pulse Recognition (APR) that blends the benefits of all three. Elo touch technologies provide stable, durable touch options that are resistant to scratches and liquids and can be activated in a variety of ways. Also, the 17A2 comes with 1280 x 1024 SXGA resolution and 5:4 aspect ratio to display clear, precise graphics for improved readability.
The space-saving, compact design of the 17A2 touchcomputer offers increased flexibility for easy integration of a variety of optional field-replaceable peripherals, including: three-track magnetic stripe reader (MSR) for credit, ID and loyalty card transactions; customer-facing display to verify those transactions; biometric fingerprint recognition for increased security; 3-watt speaker bar with or without optional single line or omni-directional barcode scanner; and DVD drive. Serviceability is enhanced with easy access to the hard drive and compact flash through a slide-out drawer.
The silent, fanless, spill- and tamper-resistant design of the 17A2 and its compact integrated peripherals, make this touchcomputer an ideal choice for point-of-sale, point-of-service, loyalty systems, kiosk information systems, medical and light industrial, airport security, home control, and Internet access points.
Features
Small integrated, all-in-one touchcomputer - Saves space, with the same footprint as a standard 17" LCD display, Combining processing with touchscreen to fit virtually anywhere
Silent, fanless Intel® Celeron® M design - Can be installed and functional in any point-of-service environment, Reliable operation in demanding environments, 2X performance improvement over 1529L based on Passmark Benchmark
Available with AccuTouch five-wire resistive, IntelliTouch surface-wave, or Acoustic Pulse Recognition touch technology - Choice of touch technology to fit a wide range of applications, Touchscreen sealed from the factory
Resists dirt, dust and liquid intrusion - "Designed for touch" with a stable, wall/arm VESA mount, and mounting holes on stand bottom for table-top installations or wall mounting, Flexible VESA mounting options–configurable as a desktop or wall-mount, Mounting options to complement store layout and customer traffic
USB 2.0, serial and cash drawer connectivity - Flexibility to support both legacy and future POS peripherals
Dual video display capability - Allows attachment of a second touch screen display for digital signage, Scalar support for 800X600, 1024X768 and native 1280X1024 for running legacy applications
Microsoft® Windows® XP Professional, WEPOS or XP Embedded operating system support - Increases software and peripheral choices offering versatility and compatibility
On-screen display controls located on the side rather than the front, plus lockout function - Minimizes accidental or intentional changes to the display's controls in a public access environment
Securable cable cover - Cable management system conceals cables from view providing additional security from tampering, Robust tie-downs for strain relief
Security lock receptacle - Provides fast, effective, and convenient security in any public and/or point-of-service installation
User accessible hard drive mounted in slide-out drawer - Easy access and quick upgrades or repairs, lockable with one screw
Long product life-cycle - Peace of mind that Elo touchcomputers will be available throughout all phases of project rollouts and when future spares are needed
Specifications
Technical

---

AccuTouch (Antiglare) - E094342
AccuTouch (Antiglare) - E580906
IntelliTouch (Antiglare) - E144637
IntelliTouch (Antiglare) - E692528

Touch Technology & Capacity

5-Wire Resistive (AccuTouch®) - Single-Touch
SAW (IntelliTouch® Surface Acoustic Wave) - Single Touch

ACPI 2.0, APM 1.2, SMBIOS 2.4, PXE, WOL

1 GB DDR2 standard on 1 of 2 slots
Expandable to 2 GB max

1 x 2.5" 160 GB SATA hard drive

17'' diagonal, Active matrix TFT LCD (LED)

Controls (side): menu, up, down, select, power
Settings: volume, brightness, sharpness, contrast, color temperature, OSD position and orientation, factory reset
Languages: English, French, Italian, German, Spanish
Lockouts: all controls

1280 x 1024 at 60 Hz (native)
scalar support for 1024 x 768 or 800 x 600 at 60 Hz

LCD panel: 300 nits
AccuTouch: 240 nits
IntelliTouch: 276 nits

Response Time-total (typical)

Horizontal: ±80° or 160° total / Vertical: ±80° or 160° total

1 x PS/2 universal (default to keyboard compatibility)

4 x USB self powered 2.0
1 (of 4) port is 12V powered USB (1.5A) for POS peripherals

2 x RS-232 serial (RJ45, 8 position)
COM2 is RS-232, RS-422 and RS-485 selectable

1 x cash drawer (RJ11, 6 position)

Intel GMA 900 up to 128MB shared

1 x 3.5 mm audio-out
1 x 3.5 mm mic-in

No OS
Windows Embedded for Point of Service (WEPOS)
Windows XP Professional 3

Windows XP – 24 Language groups; WEPOS - 5 language groups

External DC (power brick)

DC: 12 V at 10.0 amps max.

Power Consumption (Typical)

Touchcomputer: 85 W max.
Serial VFD customer display: 5 W max.
USB fingerprint reader: 3 W max.
USB magnetic stripe reader: 1 W max.
USB scanner: 3 W max.
Speaker bar: 7 W max.
DVD drive: 5 W max.
Wireless card/TV tuner: 5 W max.
Total power drawn with all possible peripherals: 105 W max.

Max Touchcomputer Dimensions Without Stand

15.4" x 15.0" x 9.4" / 391 mm x 381 mm x 239 mm

Base unit: 17.9" x 20.1" x 9.6" / 455 mm x 510 mm x 245 mm
Unit with peripherals: 20.5" x 20.1" x 9.6" / 520 mm x 510 mm x 245 mm

0°C to 35°C / 32°F to 95°F

-20°C to 60°C / -4°F to 140°F

Operating: 20%-80%
Storage: 5%-95%

Regulatory approvals and declarations

UL/cUL (recognized component), FCC, CE, VCCI, C-Tick, EN60950

50,000 hours demonstrated

100 mm VESA mount
Threaded holes on bottom of stand for secure mounting

A North American power cable and a European power cable are included. For touchcomputers being shipped to the United Kingdom, add a UK power cable at no cost by specifying part number E235317.

Accessible hard disk drive, compact flash, miniPCI card

320GB 5400 rpm Hard Disk Drive (HDD) - Elo P/N: E274069

Replacement DC Power Supply

12V DC power brick, part number E114692, is available at additional cost.

Optional IntelliTouch Stylus Pen

D82064-000, available at additional cost.
---
Get Started with Elo Today.