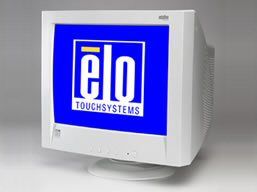 2125C 21" CRT Touchmonitor (Discontinued April 2004)
Overview
For delivering the best possible optics on a touch CRT, there is nothing better than the unique Elo IntelliTouch® Zero-Bezel touch-on-tube technology. No overlay means 100% of the brightness, picture quality, and color purity are preserved, with up to 80% less reflection than the competition. The touch is super sensitive, drift free and extremely precise as you are touching even closer to the image. If you want a touch CRT, you need to look no further.
Features
Our largest, most brilliant touch CRT
Unique IntelliTouch ZB touch-on-tube technology preserves 100% of the original picture quality
Digital on-screen display (OSD) with lockout function for public use
Power Save function
Rigid (removable) base
Innovative touchscreen sealing
Worldwide agency approvals
Specifications
Technical

---

IntelliTouch ZB (Antireflective, Worldwide) - 074698-000
IntelliTouch ZB (Antireflective, Worldwide) - C37655-000

Touch Technology & Capacity

SAW ZB (IntelliTouch® Surface Acoustic Wave) - Single Touch

21.0" diagonal, Active matrix TFT LCD

Horizontal: 14.96" / 380 mm
Vertical: 11.22" / 285 mm

Other Supported Resolutions

1600 x 1200 at 85 Hz
1280 x 1024 at 85 Hz (SXGA)
1024 x 768 at 85 Hz (XGA)
800 x 600 at 85 Hz (VESA)

Serial: 074698-000
USB: C37655-000

Analog (no proprietary video card needed)

Input Video Signal Connector

Mini D-Sub 15-Pin (female)

Power Consumption (Typical)

Horizontal: 31-107 kHz
Vertical: 50-150 Hz

Monitor Dimensions (with Stand)

19.68" x 19.48" x 19.09" / 500 mm x 495 mm x 485 mm

50,000 hours demonstrated

ENERGY STAR
VESA DPMS
VESA DDC 1/2 B Plug & Play
ISO 9241/3

Regulatory approvals and declarations

UL/cUL, FCC-B, VCCI, C-Tick, CE, TÜV-GS, TCO99, MPR II

A North American power cable and a European power cable are included.

For touchmonitors being shipped to the United Kingdom, add a UK power cable at no cost by specifying part number 276875-000
---
Get Started with Elo Today.