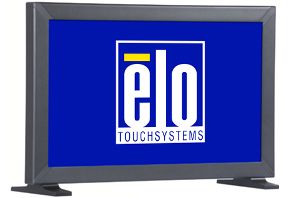 3220L 32" Touchscreen Signage (Discontinued May 2011)
Overview
Wide-aspect, high resolution LCD Interactive Digital Signage (IDS) delivers brilliant performance. The 3220L provides a wide viewing angle and is especially well suited for industrial and government applications and interactive digital signage, as well as applications requiring a larger format for enclosed or light restricted areas. For added convenience it can be mounted in portrait mode.

The 3220L is ordinarily available with IntelliTouch® technology, but CarrollTouch infrared technology is available for special applications.
Other features.
Available with IntelliTouch Surface Wave Technology and dual serial/USB interface
High quality panel with 178° viewing angle
Wide format WXGA resolution for sharper display
Plastic bezel adds durability for protection against vandalism
Backlight intensity can be changed to reduce power consumption up to 50%
Controls on the back rather than the front, for less public access
Hidden operating controls
Picture-in-picture (PIP)
Desktop stand can be removed for wall mounting option
VESA mounting option
Internal speakers
Sealed touchscreen
Multilingual on-screen display (OSD)
Specifications
Technical

---

IntelliTouch (USB and Serial, Anti-glare, Asia-Pacific, EMEA, Americas) - E793816

Touch Technology & Capacity

SAW (IntelliTouch® Surface Acoustic Wave) - Single Touch

32'' diagonal, Active matrix TFT LCD (LED)

27.48" x 15.51" / 698 mm x 394 mm

Horizontal: ±89° or 178° total / Vertical: ±89° or 178° total

LCD panel: 450 nits
IntelliTouch: 400 nits

Response Time-total (typical)

Controls: Menu, Up, Down, Select, Power
Settings: Phase, Recall
Languages: English, French, German, Italian, Polish, Turkish, Russian, Simplified Chinese
Lockouts: User Controls

Analog VGA, DVI video, DVI, HDMI

Input Video Signal Connector

Mini D-sub 15-pin VGA type HDMI, DVI-D

Two, 7W, internal speakers

Horizontal: 15.63 / 15.73, 31.5 - 91.1 kHz / Vertical: 50.0 / 58.0 - 85.0 Hz

Power Consumption (Typical)

31.2" x 19.2" x 4.5" / 792mm x 487mm x 115mm

35.5" x 24.1" x 11.0" / 902mm x 612mm x 279mm

with stand: 33.1 lbs / 15.0 kg; without stand: 29.2 lbs / 13.2 kg

0°C to 40°C / 32°F to 104°F

-20°C to 60°C / -4°F to 140°F

Operating: 20-80%
Storage: 10-90%
non-condensing

400 mm x 200 mm VESA mount
Wall mounting solutions available via third party purchase
With Stand - Removable, reverse (wall mount), pivot (landscape/portrait mode)

50,000 hours demonstrated

Minimum 50,000 hours to half brightness

Regulatory approvals and declarations

FCC, UL, CE
Elo Declarations: RoHS, CE

Optional Accessories/Peripherals

IntelliTouch SAW Stylus pen with rubber tip - Elo p/n: D82064-000
---
Get Started with Elo Today.