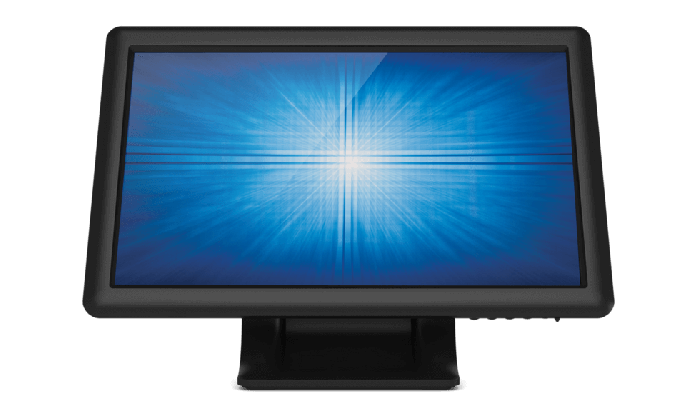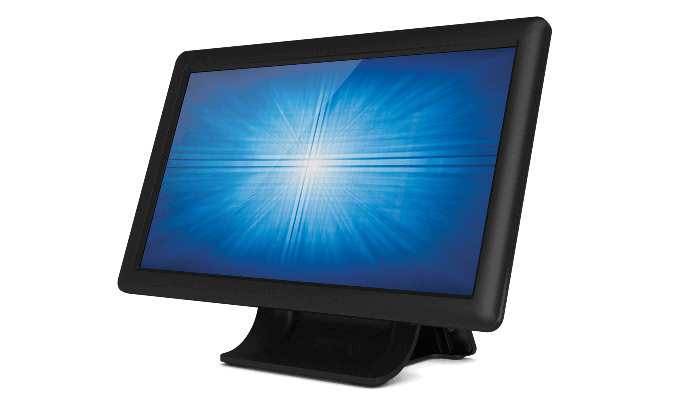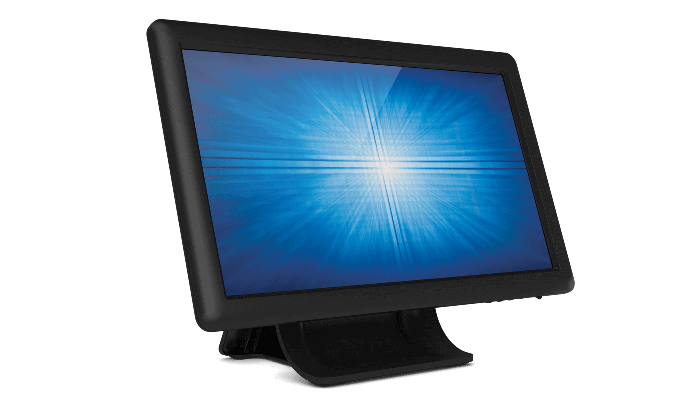 1509L 15.6" Touchscreen Monitor
Overview
The Elo 1509L 15.6-inch widescreen LED touchscreen monitor delivers a low-profile, retail-hardened solution with a pure glass construction to allow high light transmission without compromising durability or functionality. Available with IntelliTouch surface acoustic wave (SAW) offering single touch capacity, the 1509 has been "built for touch" offering an ideal solution for general applications including hospitality and retail environments.
Integrated touch.

With no moving parts to wear out, the 1509 offers a touch response that is fast, accurate, and drift-free using a finger, gloved hand, or soft stylus.

Flexible mounting.

The touchscreen monitor can be affixed to a counter, or when the stand is removed, mounted on a wall or to a pole, and with the LED backlight power consumption is significantly reduced.

Commercial grade.

The 15.6-inch touchscreen monitor delivers the quality and reliability Elo is known for and is backed by our two-year standard warranty. All of our products go through rigorous reliability testing (over 20 tests) to deliver 50,000 MTBF.
Other features.
Sleek and modern widescreen design with built-for-touch reliability
Energy savings using LED technology
Pure, clear glass touchscreen for superior picture quality
Removable stand allows the monitor to be mounted on a wall or to a pole (via VESA bracket)
Fixable to counter for extra security
Optional, field-installable magnetic stripe reader (MSR)
Touchscreen is sealed for resistance to water, dust, grease
Specifications
Technical

---

Touch Technology & Capacity

SAW (IntelliTouch® Surface Acoustic Wave) - Single Touch

15.6'' diagonal, Active matrix TFT LCD (LED)

13.4" x 7.6" / 344mm x 194mm

Other Supported Resolutions

640 x 480 at 60Hz
800 x 600 at 60Hz
1024 x 768 at 60Hz
1280 x 800 at 60, 60RB Hz
1280 x 960 at 60Hz
1280 x 1024 at 60Hz
1360 x 768 at 60Hz
1366 x 768 at 60, 60RB Hz

Horizontal: ±45° / Vertical: +15°, -35°

LCD Panel: 220
IntelliTouch: 180 nits

Response Time-total (typical)

Analog VGA on Female DB-15 connector

Input Video Signal Connector

Mini D-sub 15-pin VGA type

Horizontal: 30 - 80 KHz
Vertical: 60 Hz

12VDC +/- 5%; 100-240VAC, 50/60Hz

Coaxial power jack (2mm pin outer diameter, 6.4mm barrel inner diameter)

Adapter Input Voltage Range

Power Consumption (Typical)

ON (monitor only): 8.1W
SLEEP (monitor + AC/DC adapter at 230V/50Hz): 1.44W
OFF (monitor + AC/DC adapter at 230V/50Hz): 0.56W


Controls: menu, up, down, select

Settings: Brightness, contrast, clock, phase, H-position, V-position, auto-adjust, sharpness, color temperature, OSD timeout, OSD language, recall defaults

Languages: English, French, Italian, German, Spanish, Simplified Chinese, Traditional Chinese, Japanese

Lockouts: OSD, power

Accessible through switches along the bottom.

Monitor Dimensions (with Stand)

15.4" x 9.5" x 11.4" / 392.2 mm x 241.5 mm x 288.3 mm

17.9" x 13.9" x 8.1" / 455mm x 355mm x 205mm

0°C to 40°C / 32°F to 104°F

-20°C to 60°C / -4°F to 140°F

Operating: 20% to 80%; Storage: 10% to 95%

Touchscreen sealed to bezel
Touchscreen sealed to LCD

50,000 hours demonstrated

75 mm, 4-hole VESA mount on rear of unit

1 Year Extended Warranty - Elo P/N: 758588-000
2 Year Extended Warranty - Elo P/N: 930057-000

Regulatory approvals and declarations

RCM, cUL, IC, CCC, CE, UKCA, VCCI, KCC, CoC, EAC, BSMI, UL, FCC, CB, RoHS, China RoHS, WEEE

1509L Touchscreen Monitor
VGA Cable
USB Cable
Power brick
Quick Install Guide

Replacement DC Power Supply

UK: E529990
Taiwan: E945226
Japan: E415191
India: E249003
Argentina: E870572

Optional IntelliTouch Stylus Pen

Magnetic Stripe Reader (MSR) – Elo P/N: E757859
18W wall mount power brick (includes wall plugs for US/JP/TW, Brazil, EU, UK, KR, ARG, IND and CH clipped-in plugs) – Elo P/N: E318531
---
Configurations
(1)
Refine your search: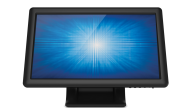 E534869
Black
USB
Bezel
Clear
IntelliTouch® - SAW
No Configurations found.
Get Started with Elo Today.