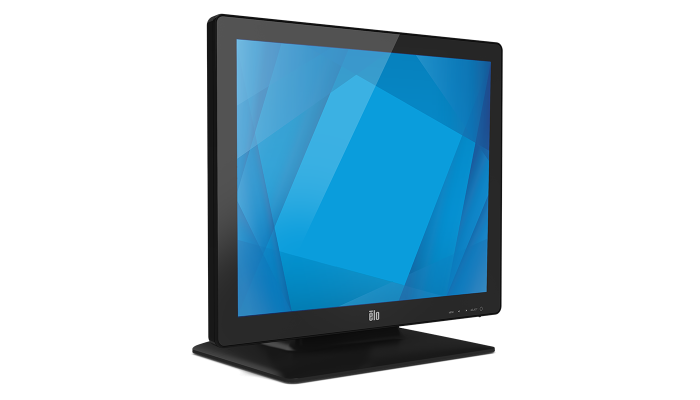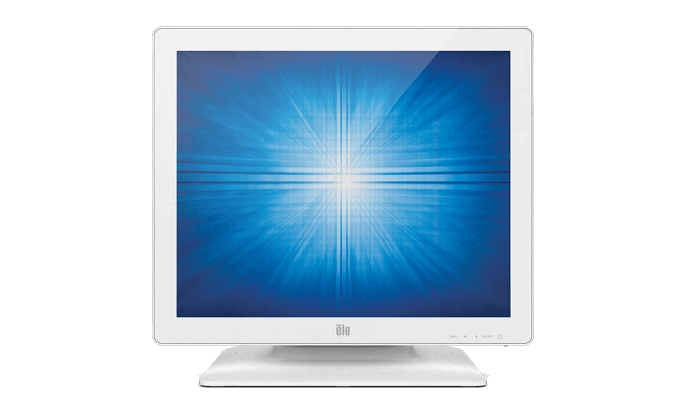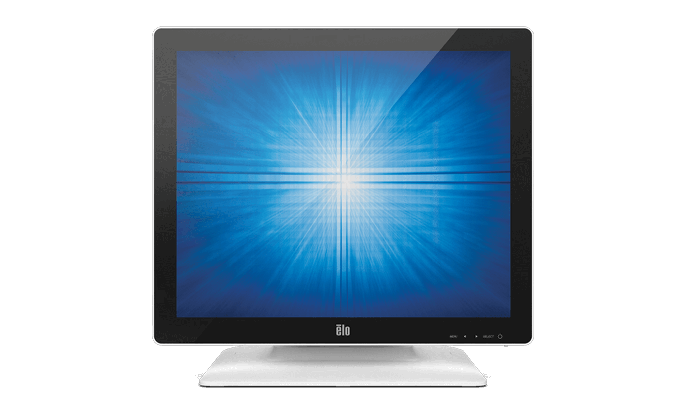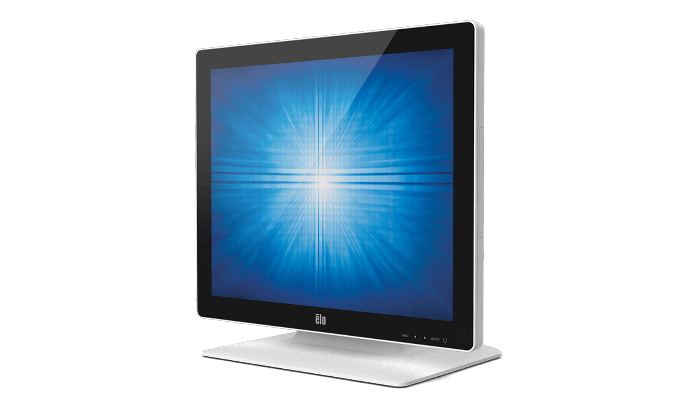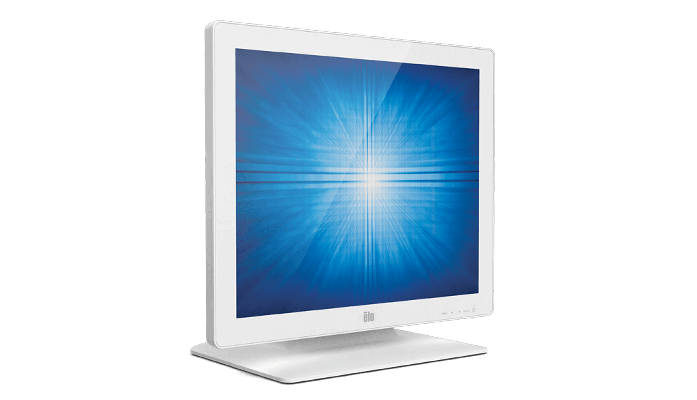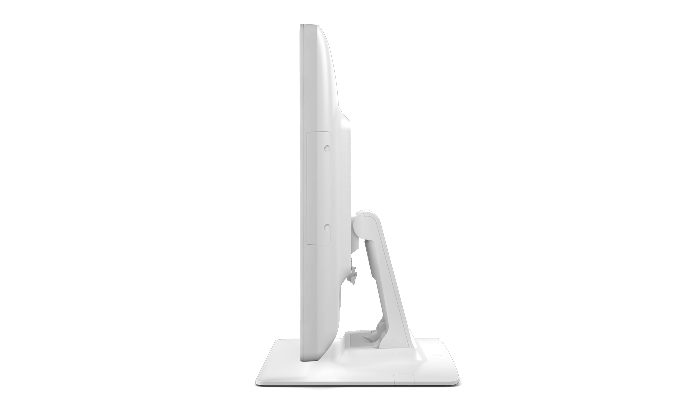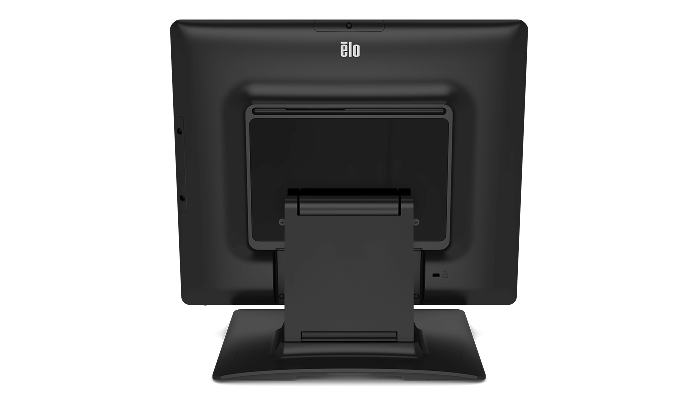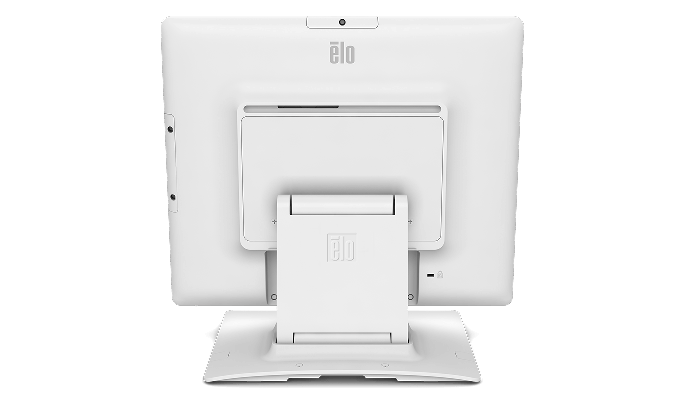 1723L 17" Touchscreen Monitor
Overview
The Elo 1723L 17-inch standard format touchscreen monitor meets the durability and aesthetic requirements for a variety of high traffic retail and hospitality interactive solutions. The sleek, edge-to-edge glass design of the 1723L brings a clean, modern feel to any environment. The zero-bezel monitor is available in both black or white with Elo's industry-leading touch technologies, both providing a stable drift-free operation with outstanding image clarity, resolution and light transmission - for an accurate touch response and vivid images.
Integrated touch.

The 17-inch monitor offers a choice of two industry leading Elo touchscreen technologies. Both enable multi touch functionality, with a seamless zero-bezel display. IntelliTouch® surface acoustic wave (SAW) zero-bezel delivers the ultimate in optical quality for dry retail and hospitality applications. For a 10-touch tablet like experience, TouchPro® PCAP offers a clean edge-to-edge glass design perfect for multi-user interaction with fast and extremely sensitive responses right out of the box.

Endless function.

The 1723L has been designed for touch from the ground up, with such features as a spill-resistant sealing, adjustable height stand with tilting functionality, VESA mounting option, connectivity incorporated within the monitor (reducing the number of power bricks), and communication cables and side controls with lockout capability.

Commercial grade.

The 17-inch touchscreen monitor delivers the quality and reliability Elo is known for and is backed by our three-year standard warranty. All our products go through rigorous reliability testing (over 20 tests) to deliver 50,000 MTBF.
Other features.
Integrated cable management
Long-lasting product cycle
Dual position stand - single hinge with high/low settings and tilt functionality
Screen is resistant to dirt, dust, liquid
Desktop, wall or VESA mounting
Internal speakers
Three-year standard warranty
Specifications
Technical

---

PCAP White (Worldwide) - E016808
PCAP Black (Worldwide) - E683457
IntelliTouch ZB Dual Touch Black (Worldwide) - E785229

Touch Technology & Capacity

SAW ZB (IntelliTouch® Surface Acoustic Wave) - Dual Touch
PCAP (Projected Capacitive) - 10 Touch

17'' diagonal, Active matrix TFT LCD (LED)

13.3" x 10.64" / 337.92mm x 270.34mm

Other Supported Resolutions

1280 x 1024 at 60,75 Hz
1024 x 768 at 60,75 Hz
800 x 600 at 60,75 Hz
720 x 400 at 70 Hz
640 x 480 at 60,75 Hz

Horizontal: ±85° or 170° total / Vertical: ±80° or 160° total

LCD panel: 250 nits
IntelliTouch ZB: 225 nits
PCAP: 225 nits

Response Time-total (typical)

Controls (side): Menu, Up, Down, Select

Settings: Brightness, Contrast, Clock, Phase, H-position, V-position, Auto-Adjust, Sharpness, Color Temperature, OSD Timeout, OSD Language, Volume, Mute, Recall Defaults

Languages: English, French, Italian, German, Spanish, Simplified Chinese, Traditional Chinese, Japanese

Lockouts: OSD, Power

Analog VGA on Female DB-15 connector
Digital DVI on Female DVI-D, Dual-Link connector
Digital HDMI type A Receptable

Input Video Horizontal Sync frequency range: 31.5 – 80KHz
Input Video Vertical Sync (frame rate) frequency range: 56-75Hz

Monitor input power connector: Coaxial power jack (2.0mm pin outer diameter, 6.4mm barrel inner diameter)
Monitor input power signal specifications: 12.0VDC +/- 5%

Note: This monitor is sold with an AC-DC power adapter.
Adapter input connector: IEC 60320 C14
Adapter input voltage range: 100-240VAC, 50/60Hz

Power Consumption (Typical)

Monitor + AC/DC adapter
ON (100% brightness): 11W
ON (80% brightness - default): 9.7W
SLEEP: 1.3W
OFF: 0.2W

Monitor Dimensions (with Stand)

15.43" x 8.24" x 14.20" / 391.9mm x 209.4mm x 360.7mm

19.65" x 17.17" x 8.39" / 499mm x 436mm x 213mm

0°C to 40°C / 32°F to 104°F

-20°C to 60°C / -4°F to 140°F

Operating: 20% to 80%; Storage: 10% to 95% (38.7℃ max wet bulb temperature)

Touchscreen sealed to bezel; Touchscreen sealed to LCD

50,000 hours demonstrated

VESA 4-hole 75mm mounting interface on rear of unit
3-hole threaded mounting on bottom of stand
See dimensional drawings for details

2 stage DPMS
VESA DDC Plug and Play
Security lock receptacle

4 year warranty coverage - Elo P/N: E898247
5 year warranty coverage - Elo P/N: E898449
3 year warranty coverage + AUR - Elo P/N: E898648
4 year warranty coverage + AUR - Elo P/N: E894921
5 year warranty coverage + AUR - Elo P/N: E895125

Regulatory approvals and declarations

Australia RCM
Canada cUL, IC
China CCC
Europe CE
United Kingdom UKCA
Japan VCCI
Korea KCC
Mexico NOM
Taiwan BSMI Mark
United States UL, FCC
International CB
RoHS, China RoHS, WEEE

1723L Touchmonitor
Quick Install Guide
50W Power Brick, power cable
IEC 60320-C13 to NA/EU plug
DVI-D cable
VGA cable (DB-15 male to DB-15 male)
USB cable (Type A plug to Type B plug)
Audio cable
Stand base assembly
Filler Plate
HDMI cable
EEI Label

Magnetic Stripe Reader (Black MSR) – Elo P/N: E628912
North America power adapter and cable kit - Elo P/N: E005277
European & Korea power adapter and cable kit - Elo P/N: E571601
UK power adapter and cable kit - Elo P/N: E180092
China power adapter and cable kit - Elo P/N: E558862
Taiwan power adapter and cable kit - Elo P/N: E818655
Japan power adapter and cable kit - Elo P/N: E182546
Argentina power adapter and cable kit - Elo P/N: E887099
Australia power adapter and cable kit - Elo P/N: E637593
PCAP Stylus Pen - Elo P/N: E066148

1723L VESA Mount Plate (White) - Elo p/n: E000451
1723L VESA Mount Plate (Black) - Elo p/n: E000450
1723L Replacement Stand (Black) - Elo P/N: E896711
1723L Replacement Stand (White) - Elo P/N: E574298
---
Configurations
(3)
Refine your search: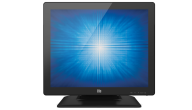 E785229 (Worldwide)
Black
USB
No-Bezel
Anti-glare
IntelliTouch® ZB - SAW
E016808 (Worldwide)
White
USB
No-Bezel
Anti-glare
Projected Capacitive
E683457 (Worldwide)
Black
USB
No-Bezel
Anti-glare
Projected Capacitive
No Configurations found.
Resources
(21)
Collateral

Drawings and Certificates

---

User Guides

---

Additional Support Resources

---
Get Started with Elo Today.