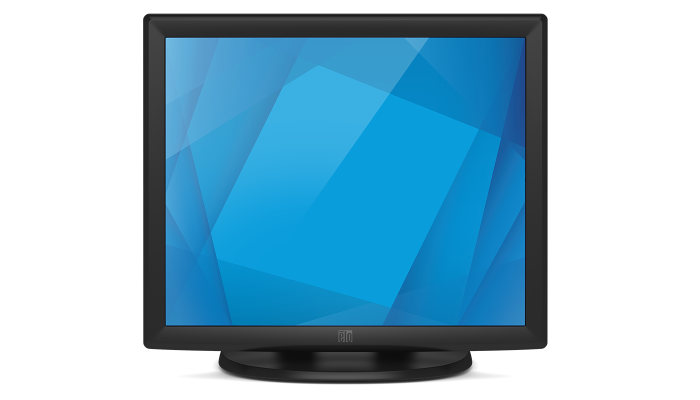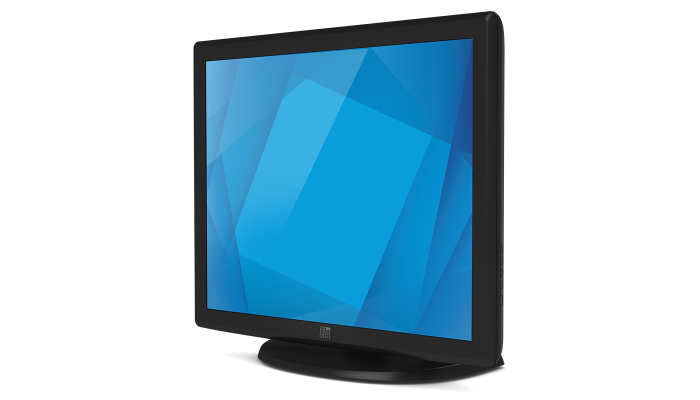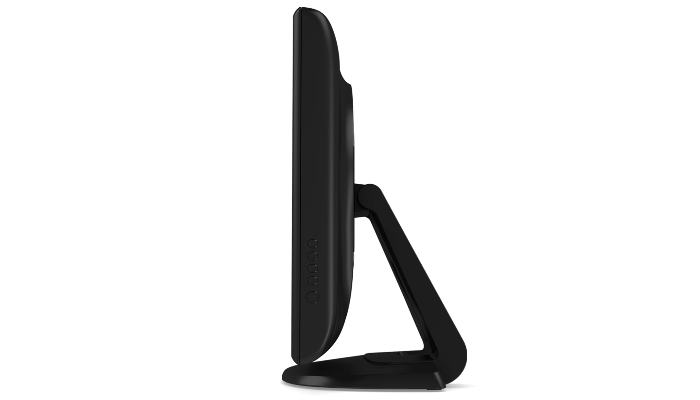 1915L 19" Touchscreen Monitor
Overview
The Elo 1915L standard format touchscreen monitor is built to withstand the rigors of continuous public use with a rugged built-for-touch design. Its stylish, thin and modern look, coupled with a retail-focused feature set and is an attractive solution for commercial touchscreen monitor needs. The 1915L can be used in a wide variety of environments with its ability to register inputs from a finger, gloved hand or soft stylus with a fast and accurate response. The touchmonitor is available with Elo's industry-leading touch technologies and multiple mounting options to support most application uses.
Integrated touch.

The 1915L desktop LCD touchmonitor is available with a choice of Elo's single touch AccuTouch® five-wire resistive or IntelliTouch® surface acoustic wave (SAW) , both with a dual serial/ USB touch interface.

Flexible mounting.

The Elo 1915L offers multiple mounting options to ensure installation flexibility including: wall- and pole-mount via standard VESA mount patterns as well as tabletop accommodations with the use of the desktop stand. Capped through-mount holes on the base of the touchmonitor ensure table-top security.

Commercial grade.

The 1915L touchscreen monitor delivers the quality and reliability Elo is known for and is backed by our three-year standard warranty. All our products go through rigorous reliability testing (over 20 tests) to deliver 50,000 MTBF.
Other features.
Affordability paired with Elo quality OR Consumer-grade pricing with Elo commercial-grade reliability
Designed for touch features such as a stable tilt stand
Long-lasting product cycle
Sealed touchscreen against dirt, dust and liquid
Dual serial/USB interface
Removable stand and VESA mounting option
Mounting holes on stand bottom for tabletop security
Controls on the side rather than the front, plus lockout function for public use
Digital on-screen display (OSD)
Worldwide agency approvals
Three-year standard warranty
Specifications
Technical

---

IntelliTouch - E266835
AccuTouch - E607608

Touch Technology & Capacity

5-Wire Resistive (AccuTouch®) - Single-Touch
SAW (IntelliTouch® Surface Acoustic Wave) - Single Touch

19'' diagonal, Active matrix TFT LCD (LED)

14.8" x 11.9" / 376.3mm x 301.1mm

Other Supported Resolutions

1280 x 1024 at 60 or 75 Hz
1152 x 864 at 75 Hz
1024 x 768 at 60, 65, 70 or 75 Hz
832 x 624 at 75 Hz (Mac)
800 x 600 at 56, 60, 72 or 75 Hz
720 x 400 at 70 Hz
720 x 350 at 70 Hz
640 x 480 at 60, 66, 72 or 75 Hz

Horizontal: ±85° or 170° total / Vertical: ±80° or 160° total

LCD panel: 250 nits
AccuTouch: 193 nits
IntelliTouch: 225 nits

Response Time-total (typical)

Input Video Signal Connector

Mini D-Sub 15-Pin VGA type

Internal AC, power cable-C5 type, optional external DC (power brick)

Monitor input power signal specifications: 12VDC +/- 5%


Coaxial power jack (2.0mm (+0.0 -0.1mm) pin outer diameter, 6.4mm (+/- 0.3mm) barrel inner diameter, 8.8mm (+/- 0.3mm) Barrel depth)

Horizontal: 31.5-80 kHz
Vertical: 56.3-75 Hz

Adapter Input Voltage Range

Power Consumption (Typical)

ON (monitor + 100V AC): 16.25W
SLEEP (monitor + 100V AC): 1.19W
OFF (monitor + 100V AC): 0.63W

Controls (side): menu, up, down, select, power

Settings: contrast, brightness, H/V position, RGB (color temp), clock, phase, recall

Languages: English, German, Spanish, Japanese, French

Lockouts: power, user controls

Monitor Dimensions (with Stand)

16.9" x 14.9" x 8.2" / 429mm x 379mm x 207mm

21.28" x 19.50" x 11.23"/ 540mm x 495mm x 285mm

Shipping Weight (With stand)

0°C to 40°C / 32°F to 104°F

-20°C to 60°C / -4°F to 140°F

Operating: 20% to 80%; Storage: 10% to 90%

Touchscreen sealed to bezel; Touchscreen sealed to LCD

50,000 hours demonstrated

100 mm VESA mount
Threaded-through mounting holes, under stand

4 year warranty coverage - Elo P/N: E898247
5 year warranty coverage - Elo P/N: E898449
3 year warranty coverage + AUR - Elo P/N: E898648
4 year warranty coverage + AUR - Elo P/N: E894921
5 year warranty coverage + AUR - Elo P/N: E895125

Regulatory approvals and declarations

UL, cUL, FCC, CE, UKCA, VCCI, IC, RCM, Argentina S Mark, TUV, CCC, China RoHS

User Guide CD
Quick Installation Guide (QIG)
AC Power Cord Mickey 1.8M BK EU/KOREA
AC Power Cord UL/SP-030+IS-034 1.8M BK
Cable A55336-000 USB A-B 1830mmBK
Cable DSUB-9PX2 1800mm BK W/PEBAG
Cable VGA PC99 1.8M BK

Replacement DC Power Supply

The monitor may also be powered with DC voltage. An optional 12V DC power brick, Elo P/N: E005277, is available at additional cost.

North American and EU AC power cables included (C5 type). For touchmonitors shipped to the UK, add a UK AC power cable at no cost by specifying Elo P/N: E540272.

USA: E042259
EU: E690013
UK: E235317

Optional Power Supply Brick

E217485 - Must also order appropriate following power cord-C14 Socket

Optional IntelliTouch Stylus Pen

Stylus pen with rubber tip, designed specifically for use with IntelliTouch surface wave touch technology. Part number D82064-000, available at additional cost.

Touch/Video/Audio/Accessory Cables:

Detachable touch and video cables are included

Dark Grey - Elo P/N: E335194
---
Configurations
(2)
Refine your search:
E607608
Dark Gray
Dual serial/USB
Bezel
Anti-glare
AccuTouch® - 5-Wire Resistive
E266835
Dark Gray
Dual serial/USB
Bezel
Anti-glare
IntelliTouch® - SAW
No Configurations found.
Get Started with Elo Today.