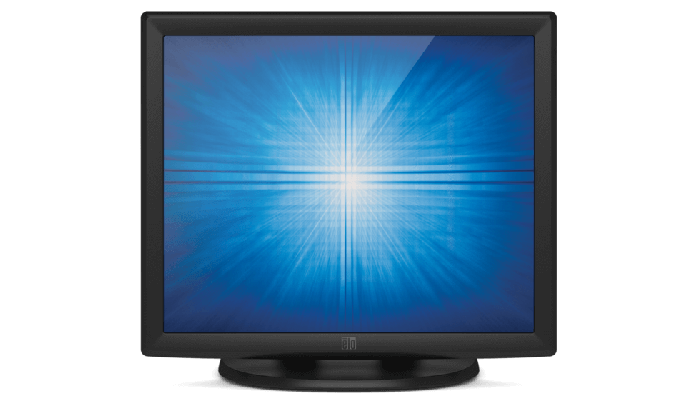 1915L 19" Touchscreen Monitor (Discontinued June 2015)
Overview
The 1915L touchmonitor is designed, developed and built to provide the most cost-effective touch solutions for system integrators and VARs. It packs Elo quality and reliability into an integrated, affordable touchmonitor. This compact touchmonitor is "designed for touch" from the ground up, with Elo expertise and reliability built in-not added by altering an existing monitor. The 1915L desktop LCD touchmonitor is available with a choice of Elo's AccuTouch® five-wire resistive, or IntelliTouch® surface wave touch technologies, plus a dual serial/ USB touch interface. The monitor is factory sealed against dust, dirt, and liquid splashes. The 1915L can be used in a wide variety of environments because it registers input from a finger, gloved hand or soft stylus with a fast and accurate response.
Other features.
Entry-level monitor with Elo quality
"Designed for touch" features such as a stable tilt stand
Long-lasting product cycle
Available with IntelliTouch Surface Wave Technology, or AccuTouch Five-Wire Resistive Technology
Sealed touchscreen
Dual serial/USB interface
Removable stand and VESA mounting option
Mounting holes on stand bottom for tabletop security
Controls on the side rather than the front, plus lockout function for public use
Digital on-screen display (OSD)
Worldwide agency approvals
Specifications
Technical

---

AccuTouch (Antiglare) - E142981 (Asia/Pacific)
IntelliTouch (Antiglare) - E966732 (Asia/Pacific)

Touch Technology & Capacity

5-Wire Resistive (AccuTouch®) - Single-Touch
SAW (IntelliTouch® Surface Acoustic Wave) - Single Touch

19'' diagonal, Active matrix TFT LCD (LED)

14.8" x 11.9" / 376.3mm x 301.1mm

Other Supported Resolutions

1280 x 1024 at 60 or 75 Hz
1152 x 864 at 75 Hz
1024 x 768 at 60, 65, 70 or 75 Hz
832 x 624 at 75 Hz (Mac)
800 x 600 at 56, 60, 72 or 75 Hz
720 x 400 at 70 Hz
720 x 350 at 70 Hz
640 x 480 at 60, 66, 72 or 75 Hz

Horizontal: ±80° or 160° total / Vertical: ±80° or 160° total

LCD panel: 250 nits
AccuTouch: 187 nits
IntelliTouch: 225 nits

Response Time-total (typical)

Controls (side): menu, up, down, select, power
Settings: contrast, brightness, H/V position, RGB (color temp), clock, phase, recall
Languages: English, German, Spanish, Japanese, French
Lockouts: power, user controls

Input Video Signal Connector

Mini D-Sub 15-Pin VGA type

Power Consumption (Typical)

Internal AC, Optional external DC (power brick)

AC: 85-265 VAC, 47–63 Hz; DC: 12.0 VDC ±0.75V

AC: IEC 60320 C6; DC: Coaxial power jack (2 mm pin diameter, 6.4 mm barrel diameter, 8.8 mm barrel length)

Horizontal: 31.5-80 kHz / Vertical: 56.3-75 Hz

Monitor Dimensions (with Stand)

16.9" x 14.9" x 8.2" / 429mm x 379mm x 207mm

21.28" x 19.50" x 11.23" / 540mm x 495mm x 285mm

0°C to 40°C / 32°F to 104°F

-20°C to 60°C / -4°F to 140°F

Operating: 20%-80%
Storage: 10%-90%
noncondensing

Touchscreen sealed to bezel
Touchscreen sealed to LCD

50,000 hours demonstrated

100 mm VESA mount
Threaded-through mounting holes, under stand

Regulatory approvals and declarations

North America/Worldwide: UL, cUL, MPR II, CE, FCC, VCCI, C-Tick Class B
Asia: BSMI, CCC, MIC, China RoHS

North American and European AC power cables are included. For touchmonitors being shipped to the United Kingdom, add a UK AC power cable at no cost by specifying Elo p/n: E540272.

AC power cables for power brick are also available at additional cost:
United States - Elo p/n: E042259
Europe - Elo p/n: E690013
United Kingdom - Elo p/n: E235317

Optional Power Supply Brick

The monitor may also be powered with DC voltage. An optional 12V DC power brick, Elo p/n: E005277, is available at additional cost.

Optional IntelliTouch Stylus Pen

D82064-000, available at additional cost.

Touch/Video/Audio/Accessory Cables:

Detachable touch and video cables are included.

Stand (Beige) - Elo p/n: E668438
Stand (Dark Grey) - Elo p/n: E335194
---
Get Started with Elo Today.