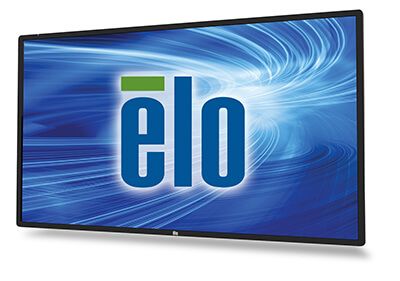 7001L 70" Interactive Digital Signage (Discontinued February 2016)
This product has been replaced by - 6553L.
Overview
The 7001L Interactive Digital Signage display combines an optical multi-touch touchscreen with a professional-grade, large format display in a slim, integrated package. For retail, hospitality, commercial real estate, education and other commercial applications, the large wide-screen format offers a high-quality, interactive canvas for attracting and engaging consumers. The 7001L offers system integrators and value-added resellers (VARs) a high performance solution that is easy to deploy and maintain. With a total thickness of 3.5 inches (89mm), the 7001L is compliant with the ADA requirement of less than 4" protrusion for wall-mounted products when used with a compatible wall-mount.
With a 700 nit LED panel, the 7001L is a bright, high quality display suitable for public environments. The optical touchscreen enables up to six simultaneous touches for multi-user interaction. This touch technology offers a fast and extremely sensitive response similar to the experience on mobile devices and is compatible with Microsoft Windows® 7 and Windows 8 operating systems. The touchscreen is 4mm thick, fully tempered glass.
Elo IDS - 01 series displays are compatible with Intel's Open Pluggable Standard (OPS) for Digital Signage with an available adapter kit. Optional, high performance computer modules are available which turn the 7001L into a completely integrated all-in-one computer—without the need for any cables or additional mounting hardware.
Computer modules are available in a choice of two models: ECMG2-i3 based on a 3.3GHz Intel Core i3 processor and HD2500 graphics ECMG2-i5 based on a 3.6GHz Intel Core i5 processor and HD4000 graphics. The high performance, commercial-grade computer modules make the 7001L a reliable platform that is interoperable with most content management servers and supports optimal partitioning of locally cached and network streamed content.
Other features.
Compatible with Intel Open Pluggable Standard (OPS) with available adapter kit (E102270), sold separately.
Available with optical touchscreen technology for a sensitive multi-touch response with any input device.
Pure-glass touchscreen delivers crystal clear images
Housed in a highly durable steel chassis for a long-life of reliable performance
VESA mounting.
Aspect ratio 16:9
High Definition (PHD) 1080p (1920 x 1080 native resolution)
Seamless, field installable, computer module, docking integration
Heat strengthened glass per ASTM C1048; UL60950 ball drop test compliant
Analog VGA and HDCP-capable HDMI 1.3, video.
Specifications
Technical

---

Optical (USB, Clear, Americas, Asia-Pacific, EMEA) - E027378

Touch Technology & Capacity

69.5'' diagonal, Active matrix TFT LCD (LED)

60.6" x 34.1" / 1539 mm x 866 mm

Other Supported Resolutions

640x480 60Hz
720x480 60Hz
720x576 50Hz
800x600 56Hz
1024x768 60Hz
1280x720 50,60Hz
1280x960 60Hz
1280x1024 60Hz
1366x768 60Hz (does not scale; image is centered on panel and the remaining active area is filled with black)
1440x900 60Hz
1680x1050 60Hz

Horizontal: ±88° or 176° total / Vertical: ±88° or 176° total

LCD Panel: 700 nits
Optical: 630 nits

Response Time-total (typical)

Controls: Menu, Up, Down, Select, Power
Settings: Brightness, Contrast, Clock, Phase, Auto-Adjust, H-position, V-position, Maintain Aspect Ratio, Sharpness, Color Temperature, OSD Timeout, OSD Language, Mounting, OSD H-Position, OSD V-Position, Volume, Mute, Recall Defaults, Video Source, Audio Source
Languages: English, French, Italian, German, Spanish, Simplified Chinese, Traditional Chinese, Japanese
Lockouts: OSD, Power
Information, MDC Protocol, Support and Help, System Temperature and Exit

Analog VGA, HDCP-capable HDMI 1.3, Display part 1.1a

Input Video Signal Connector

Female DE-15 for Analog VGA
HDMI Type A receptacle Display part 1.1a Connector

1 Vrms max. stereo signal (standard PC line out)

Headphone Output Connector

Internal Speakers: 4x5 W stereo speakers, Configurable for stereo in portarite or landscape

Horizontal: 31.5-73 kHz / Vertical: 47-63 Hz

Power Consumption (Typical)

Monitor only (at 110V/60Hz):
ON: 145.0W; SLEEP: 13.5W; OFF: 0.5W

Monitor only (at 230V/50Hz):
ON: 149.0W; SLEEP: 14.5W; OFF: 0.8W

Monitor with ECMG2B-i5 Computer Module (at 100V/60Hz):
S0 – ON, max audio
100% CPU load: 165W; S3 – STANDBY: 13W; S5 – OFF: 11W

62.8" x 36.2" x 3.5" / 1594 mm x 921 mm x 89 mm

70.1" x 43.3" x 14.4" / 1780 mm x 1100 mm x 365 mm

Without computer module: 131 lbs / 59.4 kg
With computer module: 149 lbs / 61.6 kg

Without computer module: 162 lbs / 73.4 kg

0°C to 40°C / 32°F to 104°F

-20°C to 50°C / -4°F to 122°F

Operating: 20-80%
Storage: 10-90%
noncondensing

VESA 4-hole Mount per MIS-F, 400 x 400, 8mm

50,000 hours demonstrated

Regulatory approvals and declarations

Without RFID: CB, UL, cUL, FCC Class A, CE Class A, VCCI Class A, IC, C-TICK Class A, CCC, Russia & CIS GOST, NOM, KC, BSMI, e-standby
With RFID: UL, FCC(US) Class A, CE(Europe) Class A

i3 3.4 GHz ECMG2 - No OS for IDS 01 Series - Elo P/N: E001292
i3 3.4 GHz ECMG2 - Windows 7 for IDS 01 Series - Elo P/N: E001293 
i3 3.4 GHz ECMG2 - Windows 8.1 for IDS 01 Series - Elo P/N: E001294
i5 3.7 GHz ECMG2 - No OS for IDS 01 Series - Elo P/N: E001295
i5 3.7 GHz ECMG2 - Windows 7 for IDS 01 Series - Elo P/N: E001296 
i5 3.7 GHz ECMG2 - Windows 8.1 for IDS 01 Series - Elo P/N: E001297 
i7 4.0 GHz ECMG2 - No OS for IDS 01 Series - Elo P/N: E001298 
i7 4.0 GHz ECMG2 - Windows 7 for IDS 01 Series - Elo P/N: E001299 
i7 4.0 GHz ECMG2 - Windows 8.1 for IDS 01 Series - Elo P/N: E001300
Web Cam Kit - Elo P/N: E688656
NFC Adapter - Elo P/N: E918074
OPS Kit - Elo P/N: E102270
OSD Control Box - Elo P/N: E483757
Replacement Cable Kit - Elo P/N: E000263
Wireless Adapter Key (USB) - Elo P/N: E249774

Wall-mount Kit - Elo P/N: E785667
---
Get Started with Elo Today.