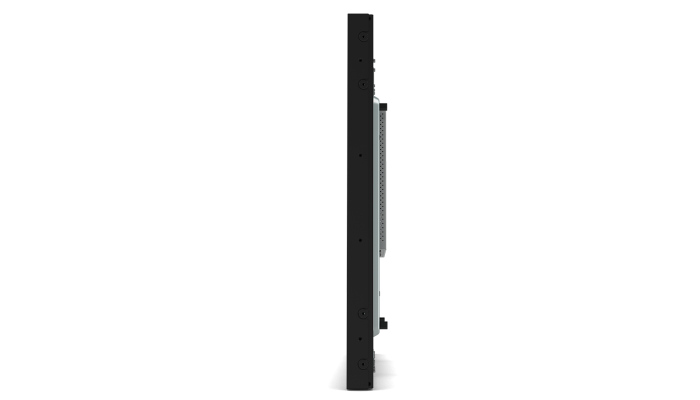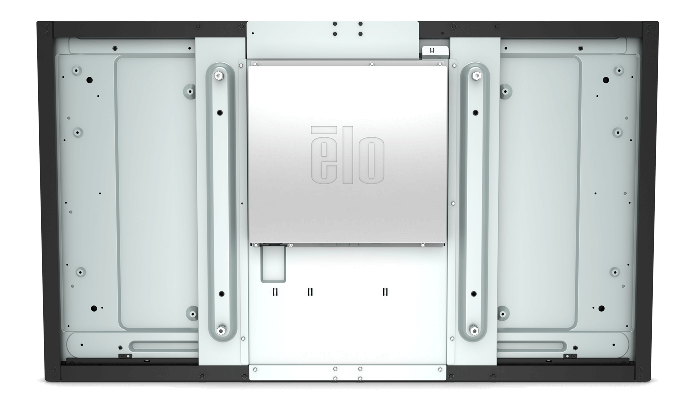 4243L Open Frame Touchscreen (Replaced by 4363L)
This product has been replaced by the - 4363L.
Overview
The Elo 4243L 42-inch full HD open-frame touchscreen delivers a professional-grade large format display at less than 2.6 inches (66 mm) in total thickness and less than 1 inch in border width. Designed for touch from the start with proven Elo expertise and reliability built in, the 4243L offers a sleek state-of-the-art slim design using LED backlighting, reducing power consumption and heat to enable thinner and smaller kiosk designs for various applications in retail, hotels, gaming, transportation and other commercial uses. The touchscreen glass is tested with robust UL60950 ball-drop requirements, supporting applications in demanding public access environments. The 4243L features a unique, injection-molded bezel with a virtually invisible water-resistant seal, making it a good choice for the rigors of public use. Narrow borders, multiple mounting options, and a USB touch interface add to the versatility of the 4243L.
Easily integrated.

Featuring a compact form factor and optional rack- and front-mount bezels, the 4243L is easy to integrate. The touchscreen is sealed against dirt, dust and liquids, which simplifies integration into the final enclosure. With design and tooling being controlled by Elo, long-lasting product availability, as well as backwards compatibility, can be expected helping to minimize enclosure costs.

Touch ready.

The 4243L is available with a choice of dual- or multi-touch technologies as well as a non-touch option. IntelliTouch® surface acoustic wave (SAW) dual-touch offers the ultimate in optical quality. All 4243L touchscreens provide pure glass construction to deliver a clear, bright and long-lasting performance. With the touchscreens being scratch-resistant, it is nearly impossible to physically wear them out.

Commercial-grade.

The Elo open frame touchscreen display delivers the quality and reliability Elo is known for and is backed by our three-year standard warranty. We design, build and are responsible for the complete solution with touch integrated from the start. Using our own touchscreens combined with our software and drivers, everything is designed to work together and tested as part of our life-testing processes. All our products go through rigorous reliability testing (over 20 tests) to deliver 50,000 MTBF (demonstrated).
Other features.
1920 x 1080 full HD provides a bright, high contrast display with a wide viewing angle that easily attracts and holds the user's attention
Multiple mounting options are available
Worldwide agency approvals and a three-year standard warranty extendable to five years
Integrated power supply
Specifications
Technical

---

IntelliTouch Dual Touch (Worldwide) - E000444

Touch Technology & Capacity

SAW (IntelliTouch® Surface Acoustic Wave) - Dual Touch

42'' diagonal, Active matrix TFT LCD (LED)

Accessible through switches on the OSD Control Remote accessory.

Controls (side): Menu, Up, Down, Select

Settings: Brightness, Contrast, Clock, Phase, H-position, V-position, Auto-Adjust, Aspect Ratio, Sharpness, Color Temperature, OSD Timeout, OSD Language, Volume, Mute, Recall Defaults, Video Source
Languages: English, French, Italian, German, Spanish, Simplified Chinese, Traditional Chinese, Japanese

Lockouts: OSD, Power

RTC Settings: The clock/time and the monitor ON/OFF schedule can be changed within this menu. Daylight Saving time is adjusted for automatically and will change the current time by one hour to accommodate daylight savings time.

See user manual for full details.

36.6" x 20.6" / 930mm x 523mm

Other Supported Resolutions

640 x 480 at 60Hz
800 x 500 at 60Hz
800 x 600 at 56/60Hz
1024 x 768 at 60Hz
1280 x 720 at 60Hz
1280 x 960 at 60 Hz
1280 x 1024 at 60Hz
1360 x 768 at 60 Hz
1366 x 768 at 60 Hz
1440 x 900 at 60 Hz
1600 x 1200 at 60 Hz
1680 x 1050 at 60 Hz
1920 x 1080 at 60 Hz

Horizontal: ±89° or 178° total / Vertical: ±89° or 178° total

LCD panel: 500 nits
IntelliTouch Dual Touch: 450 nits

Response Time-total (typical)

Analog VGA, HDCP-capable HDMI 1.3

Input Video Signal Connector

Female DE-15 VGA, HDMI Type A Receptacle Connector (WW model only)

Horizontal: 31 - 80 KHz
Vertical: 47 - 63 Hz

AC: 100-240 VAC, 50/60 Hz

Power Consumption (Typical)

Monitor Only
(Typical at 100V at 60Hz):
ON: 72.87 W
SLEEP: 0.24 W
OFF: 0.16 W

(Typical at 240V at 50Hz):
ON: 74.38 W
SLEEP: 0.45 W
OFF: 0.35 W

38.5" x 22.6" x 2.6" / 978mm x 575mm x 65mm

45.9" x 33.7" x 11.02" / 1168mm x 856mm x 280mm

0°C to 40°C / 32°F to 104°F

-20°C to 50°C / -4°F to 122°F

Operating: 20% to 80%
Storage: 10% to 95%

Touchscreen sealed to bezel
Touchscreen sealed to LCD

50,000 hours demonstrated

4 year warranty coverage + AUR - Elo P/N: E740135
5 year warranty coverage + AUR - Elo P/N: E740330

Regulatory approvals and declarations

Australia RCM
Canada cUL, IC
China CCC, China RoHS
Europe CE
Japan VCCI
Korea KCC e-standby
Mexico NOM, CoC
Taiwan BSMI
United States UL, including UL 62368-1, FCC
International CB
Russia EAC

Mounting Options 400, 400, 6mm VESA mount
Side mounting brackets included

4243L
QIG
EEI Label
OSD Remote
HDMI Cable
VGA Cable
USB Cable (Type A to B)
Power Cable IEC 60320-C13 (NA plug)
Power Cable IEC 60320-C13 (EU/KR plug)
Power Cable IEC 60320-C13 (UK plug)
Power Cable IEC 60320-C13 (AR plug)
Power Cable IEC 60320-C13 (CH plug)
Power Cable IEC 60320-C13 (TW plug)
Power Cable IEC 60320-C13 (JP plug)
3-pin to 2-pin adapter for JP power cable
Side Mount Brackets x8
Side Mount Bracket Screws x16

Options / Peripherals / Upgrades

Remote OSD (RJ45) - Elo P/N: E483757
Elo Backpack® - Elo P/N: E611864
IntelliTouch Stylus Pen - Elo P/N: D82064-000
Replacement Bracket Kit for 3243L IT model – Elo P/N: E727550
---
Resources
(20)
Collateral

Drawings and Certificates

---

User Guides

---

Additional Support Resources

---

Extended Warranty Information
Get Started with Elo Today.