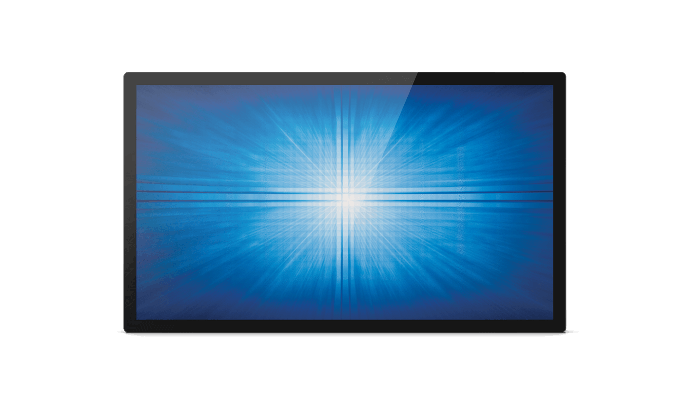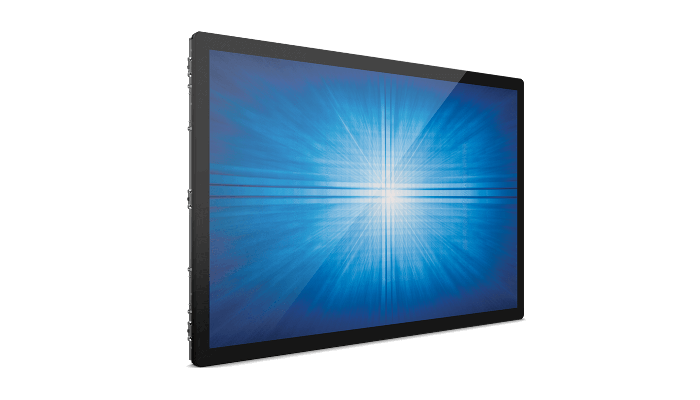 4343L Open Frame Touchscreen (Replaced by 4363L)
This version has been replaced by the 4363L.
Overview
Elo's 4343L open frame touchscreen delivers a professional-grade large format 42.5-inch full HD display in a sleek and thin 2.6-inch (66 mm) form factor. The 4343L enables a thinner and smaller kiosk design for applications with limited space. The touchscreen glass is built and tested to provide robust impact resistance by exceeding the UL60950 ball-drop and IK06 impact immunity requirements. Energy Star 7.0 certified, the 4343L, with its' energy efficient LED backlight, is designed for optimal energy conservation reducing power consumption and heat dissipation. The 4343L offers multiple mounting options, sleek edge-to-edge glass architecture and can handle 24/7 operation, making it ideal for public venue self-service kiosks and built-in application installs for retail, hotels, gaming, transportation and other commercial uses.
Easily integrated.

TouchPro® Projected Capacitive (PCAP) units offer clear anti-friction glass that are sealed against dirt and dust to simplify integration into the final enclosure. And with the capability to support touch thru glass (available upon request), the 4343L can be sealed into a solution and obtain an IP65 rating on the front side of the unit. The flush mount kit is included to enable a seamless and elegant front kiosk surface. And, as with all Elo open frame touchscreen displays, we control the design and tooling to help ensure future products will be identical in form, fit and mechanical design whenever possible helping you to minimize costly enclosure changes.

Touch ready.

Designed for touch from the start, the seamless zero-bezel 42.5-inch multi-touch display is available with our latest TouchPro PCAP advanced solution offering a lighter 12-point multi-touch screen specifically designed for large format, high-use applications. The 4343L's TouchPro PCAP offers fast and extremely sensitive response similar to the experience on mobile devices and is compatible with Windows® 7, Windows 8 and Windows 10. The 4343L touchscreen provides pure glass construction to deliver a clear, bright and long-lasting touchscreen solution.

Commercial-grade.

The Elo open frame touchscreen display delivers the quality and reliability Elo is known for and is backed by our three-year standard warranty. Designed and built by Elo, we use our own touchscreens, software and drivers ensuring everything is designed to work together and tested as part of our life-testing processes. All our products go through rigorous reliability testing (over 20 tests) to deliver 50,000 MTBF (demonstrated).
Other features.
1920 x 1080 full HD for crisp image and text detail
Multiple available mounting option
Bright, high contrast display with a wide viewing angle that easily attracts and holds the user's attention
TouchPro PCAP technology utilizes clear glass with anti-friction coating to provide a smooth smartphone like touch experience without surface tension.
3-year standard warranty extendable to 5 years
Regulatory approvals and declarations for use across the globe
Integrated power supply for use in slim enclosures
Energy efficient with EnergyStar 7.0 certification and EU Efficiency Class A ratings
Specifications
Technical

---

TouchPro PCAP (clear with anti-friction) - E220574


Touch Technology & Capacity

PCAP (TouchPro® Projected Capacitive) - 12 Touch

42.5'' diagonal, Active matrix TFT LCD (LED)

Accessible through switches on the OSD Control Remote accessory.

Controls (side): Menu, Up, Down, Select

Settings: Brightness, Contrast, Clock, Phase, H-position, V-position, Auto-Adjust, Aspect Ratio, Sharpness, Color Temperature, OSD Timeout, OSD Language, Recall Defaults, Video Source, Touch, RTC

Languages: English, French, Italian, German, Spanish, Simplified Chinese, Traditional Chinese, Japanese

Lockouts: OSD, Power

RTC Settings: The clock/time and the monitor ON/OFF schedule can be changed within this menu. Daylight Saving time is adjusted for automatically and will change the current time by one hour to accommodate daylight savings time.

See user manual for full details.

37.05" x 20.84" / 941.2 mm x 529.4 mm

Other Supported Resolutions

640x480 60Hz
720x480 60Hz
720x576 50Hz
800x600 56, 60Hz
1024x768 60Hz
1280x720 50, 60Hz
1280x960 60Hz
1280x1024 60Hz
1366x768 60Hz
1440x900 60Hz
1680x1050 60Hz
1920x1080 50, 60Hz

Horizontal: ±89° or 178° total / Vertical: ±89° or 178° total

LCD panel: 450 nits
TouchPro PCAP: 387 nits

Response Time-total (typical)

Input Video Signal Connector

Analog VGA on Female DE-15 connector
HDCP-capable HDMI on HDMI Type A receptacle connector

Horizontal: 31 - 75 KHz
Vertical: 47 - 63 Hz

Power Consumption (Typical)

Power Consumption (Typical at 100V at 60Hz):
ON (monitor + AC/DC adapter): 59.85W
SLEEP (monitor + AC/DC adapter): 0.80W
OFF (monitor + AC/DC adapter): 0.17W

Power Consumption (Typical at 240V at 50Hz):
ON (monitor + AC/DC adapter): 58.44W
SLEEP (monitor + AC/DC adapter): 1.26W
OFF (monitor + AC/DC adapter): 0.35W

39.34" x 23.13" x 2.61" / 999.3 mm x 587.5 mm x 66.4 mm

48.0" x 31.1" x 9.84" / 1220 mm x 790 mm x 250 mm

0°C to 40°C / 32°F to 104°F

-20°C to 60°C / -4°F to 140°F

Operating: 20% to 80%
Storage: 10% to 90%

Touchscreen sealed to bezel
Touchscreen sealed to LCD

50,000 hours demonstrated

4 year warranty coverage + AUR - Elo P/N: E740135
5 year warranty coverage + AUR - Elo P/N: E740330

Regulatory approvals and declarations

Argentina S-Mark
Australia C-Tick
Canada CUL, IC
China CCC
Europe CE
Japan VCCI
Korea KC, KCC, e-Standby
Mexico CoC
Russia EAC
Taiwan BSMI
United States UL, including UL 62368-1, FCC
International CB
RoHS, China RoHS, WEEE
GLI 27 kV air / 8 kV contact ESD compliant
Energy Star 7.0
UL 60950 ball-drop compliant
IK06 impact compliant
EU Energy Efficiency A rating

400mm x 400mm VESA 4-hole mounting interface on rear of unit
Flush Mount Brackets available in the Accessories Box
See dimensional drawings for details

4343L
QIG
EEI Label
OSD Remote
HDMI Cable
VGA Cable
USB Cable (Type A To B)
Power Cable IEC 60320-C13 (NA plug)
Power Cable IEC 60320-C13 (EU/KR plug)
Power Cable IEC 60320-C13 (UK plug)
Flushmount Brackets x8
Flushmount Bracket Screws x48

Options / Peripherals / Upgrades

Remote OSD (RJ45) - Elo P/N: E483757
Elo Backpack® - Elo P/N: E611864
Optional PCAP Stylus Pen - Elo P/N: E066148
---
Configurations
(1)
Refine your search:
E220574
TouchPro® - PCAP
Multi Touch (12)
16:9
Horizontal: ±89° or 178° total / Vertical: ±89° or 178° total
No Configurations found.
Resources
(20)
Collateral

Drawings and Certificates

---

User Guides

---

Additional Support Resources

---

Extended Warranty Information
Get Started with Elo Today.