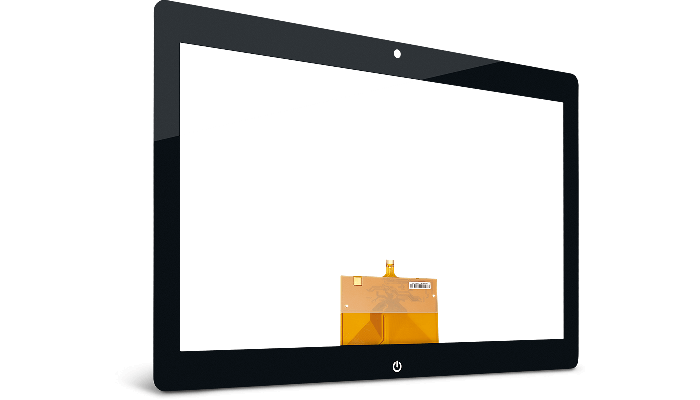 TouchPro® Pro-F (Film) Projected Capacitive, 7"-32"
Overview
The Elo TouchPro® Pro-F projected capacitive touch technology offers a fast and sensitive response and professional-grade reliability combined with a stylish, sleek no-bezel design (bezel options available). Elo's projected capacitive touchscreens are designed for the rigors of commercial applications.

Download our whitepaper — The Next Generation Touch Technology Experience to learn about choosing the right PCAP solution for your next design project.
TouchPro Film based solutions

Elo's film based PCAP solution (Pro-F) offers excellent optical clarity, high touch durability and long-term stability over temperature. TouchPro Pro-F is available in standard screen sizes up to 32-inches with up to 16-point multi-touch capabilities and zero-bezel design.

Customizable

Elo offers a wide range of customization options to meet your requirements including screen dimensions, cover glass thickness, colored borders, logotypes, bonding and surface treatments such as anti-glare.

Complete Solutions

Elo offers a complete projected capacitive touchscreen solution including touch screen, controllers, drivers for various operating systems and software utilities resulting in shorter development and integration time. Pro-F is available with CoF (Chip On Flex) controllers as well as PCB (Printed Circuit Board) controller options.
Factory Video
Elo's state of the art facility in Suzhou, China occupies a quarter of a million square feet and includes 155,000 square feet of manufacturing space with adjacent offices and warehouses. It is home to Elo's industry leading touchscreen solutions including AccuTouch 5-wire resistive, IntelliTouch surface acoustic wave and TouchPro projected capacitive touchscreens.

Elo is proud to be the only company in the world that produces its own touch screens, ASICs, firmware and software drivers in-house.
Applications
Interactive digital signage
Point-Of-Sale (POS) terminals
Self-service/service-automation kiosks
Gaming and lottery equipment
Healthcare/medical equipment
Point-of-Information and transportation kiosks
Industrial/ Factory Automation/ Industrial Panel PC
TouchPro Product Selection Table

Screen Families
7
10
12
15
17
19
22
24
27
32
42
46
55
9300 series- PCB- Advanced
9200 series- PCB- Advanced
9300 series- PCB- Advanced
9200 series- PCB- Advanced

Controller Families
Screen
Size
Range
Form
Factor*
Flextail
Configuration
Interface
Touch
Screen
Family
Controller
IC Make/
Model
Fluid
Rejection
Saline/
Salt Water
Operation
10V RMS
CS
Touch
Through
Glass
Glove
Stylus
# of
touches
7200 series
CoF
≤15.6"
CoF
Single
USB
Pro-F
Multiple
Good
-
Yes
Good
Good
Passive
Multi
8200 series
Core
7"- 22"
PCB
Single/Multi
USB/Serial
Pro-F/Pro-G
Multiple
Good
Good
Yes
Good
Good
Passive
Multi
9200 series
Advanced
7"- 22"
PCB
Single/Multi
USB/Serial
Pro-F/Pro-G
Elo
Best
Best
Yes
Best
Best
Passive
Multi
8300 series
Large
≥32"
PCB
Single/Multi
USB
Pro-M/Pro-F
Multiple
Good
-
Yes
Good
Good
Active
Multi
9300 series
Advanced
22"- 32"
PCB
Single/Multi
USB/Serial
Pro-F
Elo
Best
Best
Yes
Best
Best
Passive
Multi
* PCB (Controller IC mounted on a stand alone printed circuit board), CoF (Chip on Flex - Controller IC mounted on a flex tail)
Specifications
Technical

---

PCAP (TouchPro® Projected Capacitive)

Finger
Gloved hand
Passive stylus

Anti-glare
Anti-fingerprint
Anti-smudge

Over 50 million touches in one location

Windows XP
Windows 7
Windows 8
Linux
Android

Multiple monitor
Various touch modes
Touch zones

-20°C to 70°C, RH <90% (Non-Condensing)

Actual technical specifications are dependent on multiple design variables including touch IC and screen size. Values above are for reference only.
---
Resources
(7)
Collateral

---

Additional Support Resources

Drawings and Certificates

---

Agency Approval Certificates
Get Started with Elo Today.