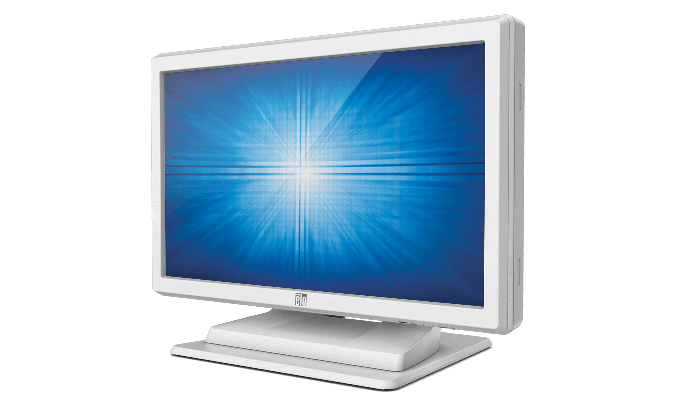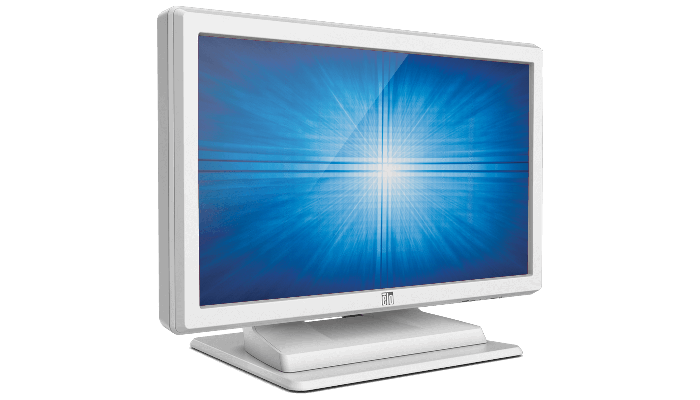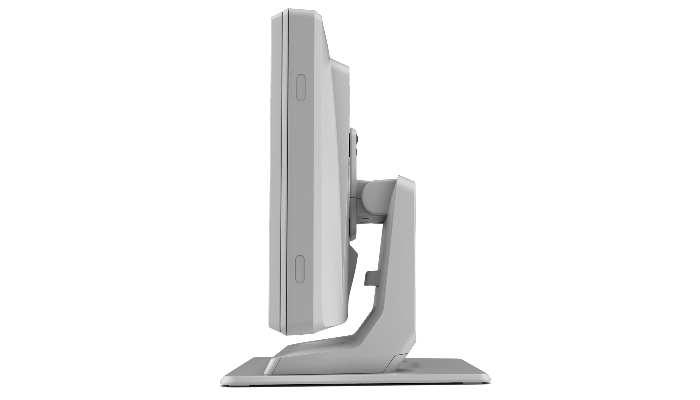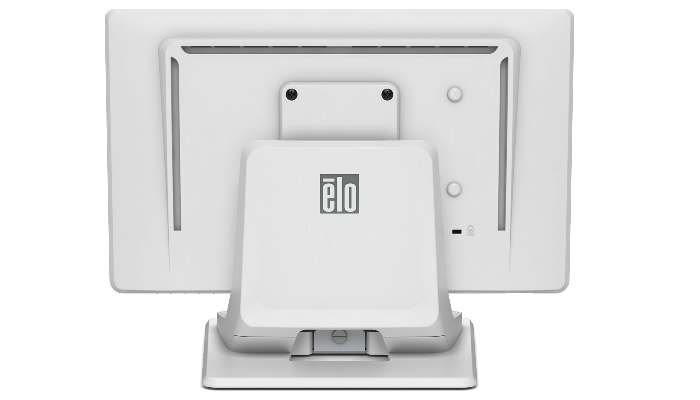 1519LM 15.6" Touchscreen Monitor (Discontinued September 2017)
Overview
The feature-rich, health care-ready 1519LM 15-inch touchscreen monitor offers professional-grade, best-in-class optical performance with Elo's industry-leading touch technologies. Compliant with multiple safety and electrical certifications, the clean white design of the 1519LM offers a dual serial/USB touch controller, DVI, VGA and built-in speakers. The touchscreen monitor provides multiple mounting options to support most application uses, such as nursing stations, computer-aided therapy, electronic medical record keeping, paperless charting, patient self-check-in/registration or point-of-information installations, as well as non-medical applications that benefit from DVI-D input, speakers and a pristine image display.
Healthcare-grade.

The 1519LM is compliant with multiple safety and electrical certification standards, including IEC/EN 60950-1 and IEC/EN 60601-1 for safety and EN 55011, EN 55022, EN 55024 and IEC/EN 60601-1-2 (3rd Edition) for EMC. Equipped with an LED backlit state-of-the-art LCD panel, the monitor is environmentally friendly with reduced power consumption.

Value-added.

The healthcare-grade 1519LM touchscreen monitor provides an economical and reliable touchscreen sealed from dirt, dust and liquid, making it an effective solution for system integrators, value-added resellers and software developers to consider integrating into their health care applications.

Integrated touch.

The 1519LM features your choice of three touchscreen technologies: single touch options include AccuTouch® Five-Wire Resistive technology (activated with fingernails, gloves, credit cards, or any stylus) or IntelliTouch® surface acoustic wave (SAW) for superior image quality (activated with finger or glove). For a 10-touch tablet-like experience, our TouchPro™ PCAP offers a clean edge-to-edge glass design perfect for multi-user interaction with fast and extremely sensitive responses right out of the box.
Other features.
Economical and reliable
Support input video up to 1366 x768 at 60Hz
Optional ergonomic three stripe MSR available in USB with keyboard emulation
Sealed touchscreen
Dual serial/USB touch interface
Removable stand and VESA mounting option
Mounting holes on stand bottom for tabletop security
Controls on the side rather than the front, plus lockout function for public use
Digital on-screen display (OSD)
Energy savings by using LED technology
Three-year standard warranty
Specifications
Technical

---

IntelliTouch (North America) - E561587
AccuTouch (North America) - E019027
PCAP (Americas) - E277603

Touch Technology & Capacity

5-Wire Resistive (AccuTouch®) - Single-Touch
SAW (IntelliTouch® Surface Acoustic Wave) - Single Touch
PCAP (Projected Capacitive) - 10 Touch

15.6'' diagonal, Active matrix TFT LCD (LED)

13.5" x 7.6" / 344mm x 194mm

Other Supported Resolutions

720 x 350 at 70Hz
720 x 400 at 70Hz
640 x 480 at 60, 72, 75Hz
800 x 600 at 56, 60, 72, 75Hz
832 x 624 at 75Hz
1024 x 768 at 60, 70, 75Hz
1280 x 800 at 60Hz
1280 x 960 at 60Hz
1280 x 1024 at 60, 75Hz
1360 x 768 at 60Hz
1366 x 768 at 60Hz
1440 x 900 at 60Hz
1600 x 1200 at 60Hz
1680 x 1050 at 60Hz

Horizontal: ±45° or 90° total / Vertical: 20°/45° or 65° total

LCD panel: 250 nits
AccuTouch: 200 nits
IntelliTouch: 225 nits
PCAP: 215 nits

Response Time-total (typical)

Analog VGA on Female DE-15 connector Digital DVI on Female DVI-D connector

Horizontal: 30 - 83 kHz
Vertical: 50 - 75 Hz

Headphone Output Connector

DC (external power adapter included with unit)

Coaxial power jack (Barrel inner diameter: 6.4 ± 0.3mm. Pin outer diameter: 2.0 + 0.0-0.1mm. Barrel depth: 8.8 ± 0.3mm)

Adapter Input Voltage Range

Power Consumption (Typical)

Monitor and AC/DC adapter: 18.4W

Two x 2W internal speakers

Controls: Menu, Up, Down, Select

Settings: Brightness, Contrast, Phase, Clock, H-Position, V-Position, Auto-Adjust, Maintain Aspect Ratio, Sharpness, Video Source, Color Temperature, OSD Timeout, OSD Language, OSD Rotation, Volume, Mute, Recall Defaults

Languages: English, French, Italian, German, Spanish, Simplified Chinese, Traditional Chinese, Japanese

Lockouts: OSD, Power

Monitor Dimensions (with Stand)

13.8" x 12.2" x 6.9" / 350mm x 310mm x 175mm

16.54" x 14.96" x 10.24" / 420mm x 380mm x 260mm)

Shipping Weight (With stand)

0°C to 40°C / 32°F to 104°F

-20°C to 60°C / -4°F to 140°F

Operating: 20% to 80%; Storage: 10% to 90%

Touchscreen sealed to bezel; Touchscreen sealed to LCD

50,000 hours demonstrated

75 mm VESA mount
Threaded-through mounting holes, under stand

Regulatory approvals and declarations

North America: UL 60601-1 (3rd Edition), CSA C22.2 No. 60601-1 (medical), FCC CFR 47 Part 18 Subpart B (medical), USA UL 60950, CSA C22.2 No. 60950-1-03, Mexico NOM, USA FCC, ICES

EMEA: IEC/EN 60601-1:1988+A1+A2 2nd Edition (medical), IEC/EN 60601-1-2:2005, IEC/EN 55011 (medical), IEC/EN 60950-1 including all CB scheme member country deviations, C-tick, CE mark

Japan: VCCI

South America: Argentina S-mark

Replacement DC Power Supply

Replacement Medical Power Brick Kits:

United States: E179789
Europe: E050243
United Kingdom: E287753
Japan: E970286

Optional IntelliTouch Stylus Pen

Stylus pen with rubber tip, designed specifically for use with IntelliTouch SAW touch technology. Part number D82064-000, available at additional cost.

Touch/Video/Audio/Accessory Cables:

Detachable touch and video cables are included.

Magnetic Stripe Reader (MSR) – Elo P/N: E001002

E194784 (White) - available at additional cost
---
Configurations
(3)
Refine your search: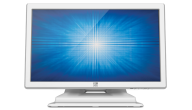 E019027 (North America)
White
Dual serial/USB
Bezel
Anti-glare
AccuTouch® - 5-Wire Resistive
E561587 (North America)
White
Dual serial/USB
Bezel
Anti-glare
IntelliTouch® - SAW
E277603 (Americas)
White
USB
No-Bezel
Clear
Projected Capacitive
No Configurations found.
Get Started with Elo Today.