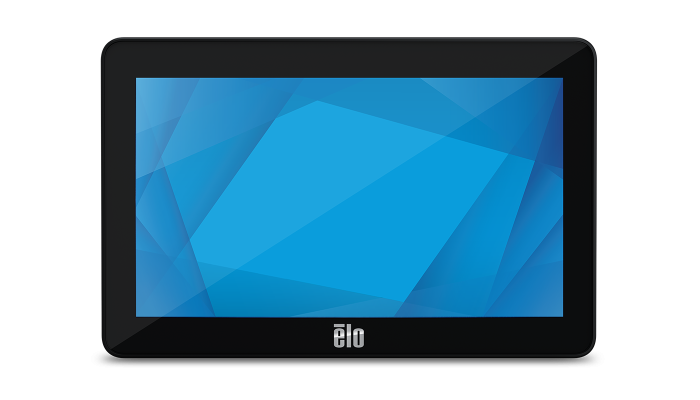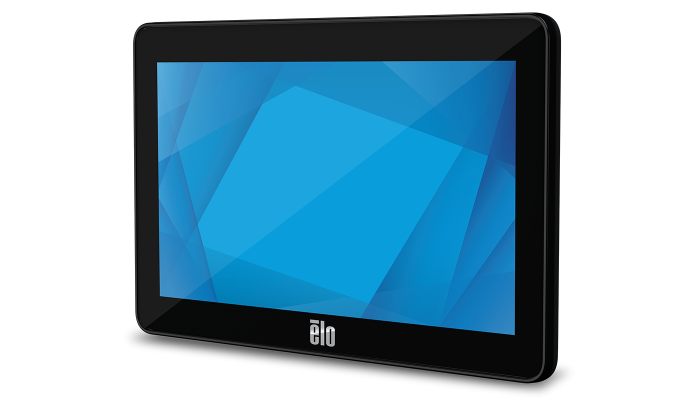 0702L 7" Touchscreen Monitor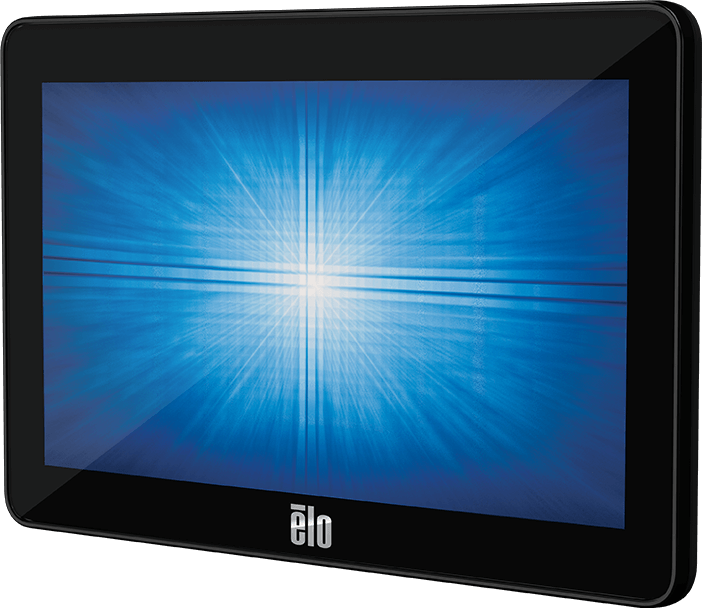 Elo's 0702L
Touchscreen Monitor
The Elo 0702L 7-inch touchscreen monitor offers the same seamless design that spans the entire Elo 02-Series lineup. With a form factor only half an inch thin and a design tailored for ease of integration, the 0702L thrives in customer-facing installations in point-of-sale, brand-loyalty, point-of- information, signage and hospitality applications. With a slim footprint, the 0702L is also well-suited for industrial kitchen equipment controllers and kitchen display systems.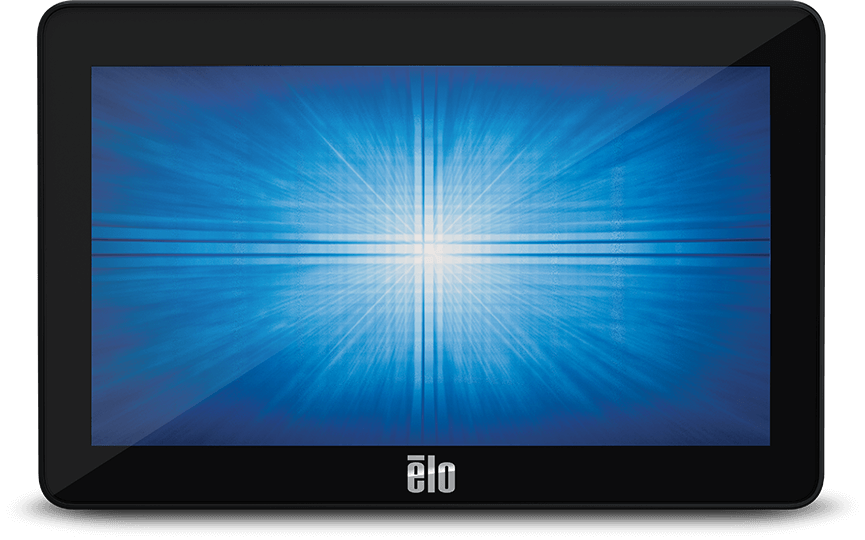 Single-Cable Connection
Using DisplayLink technology, the 0702L provides a single-cable solution that combines power, video and touch signals into one USB connection. By reducing the number of cables from 3 to 1, installation is a breeze, and you never have to worry about a power adapter again.
DisplayLink technology supports Windows, Android and Linux operating systems.
Well-Suited for…
Every business is different. Whether you need a customer-facing, point-of-sale touchscreen to display a transaction or an interactive display in a restaurant to enable guests to view the menu and make their orders, the 0702L provides the features to meet your installation needs with a modern, sleek aesthetic.

Retail
Hospitality

Restaurant
Industrial
Mount With Flexibility
Customers demand a seamless shopping experience from the moment they enter the store through check-out. From stands and pole mounts to shelf mounts, wall mounts and 3rd-party VESA mounts, the touchscreens can be integrated with ease.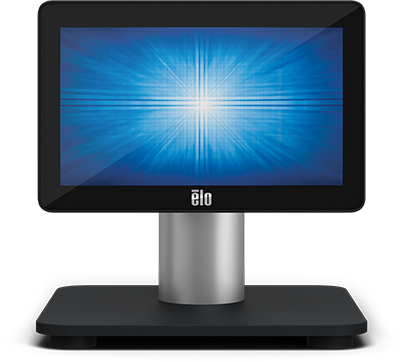 Brilliant Displays from 7 to 27-inches
The brilliant touchscreens with Elo's industry-leading TouchPro® PCAP technology offer wide viewing angles with impeccable image clarity, resolution and light transmission for accurate touch response and vivid images. Capable of handling up to 10 simultaneous touches, the 02-Series touchscreen monitors provide an enhanced tablet-like experience.

EloCareSM – We Have Your Back
When a technology outage happens, retailers, restaurants and business operators want to know the right person to call, right away. EloCare offers services you can count on in case the unexpected happens.
Extended Warranty

1- and 2-year extended warranty options available

AUR

Get a replacement unit when you need it

Free Technical Support

Available with your standard and extended warranties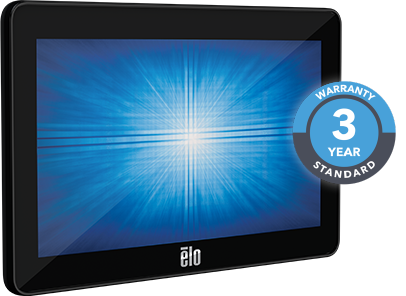 Built-to-Last
The 02-Series Touchscreen Monitors deliver the quality and reliability Elo is known for and are backed by our 3-year standard warranty with an optional extension to 5 years. We pride ourselves on being one of the best manufacturers in the market—we design and build the complete solution, with touch integrated from the start. Our robust touchscreen solutions offer flexibility for diverse environments and have undergone rigorous testing to ensure the longest life possible for our products, and your maximum ROI.
Specifications
Technical

---

TouchPro PCAP (Worldwide) - E796382

Touch Technology & Capacity

PCAP (TouchPro® Projected Capacitive) - 10 Touch

7'' diagonal, Active matrix TFT LCD (LED)

6.07'' x 3.38'' / 154.08 mm x 85.92 mm

Other Supported Resolutions

Horizontal: 75° or 150° total / Vertical: 55°/65° or 120° total


Panel: 500 nits; TouchPro PCAP: 430 nits

Response Time-total (typical)

Horizontal: 31.5K KHz
Vertical: 60Hz

Input connector: Micro-USB
Input signal specifications: 5 V ±5%


Power Consumption (Typical)

Monitor + adapter
ON: 3.7W
SLEEP: 0.9W
OFF: 1.9W

Monitor Dimensions (without Stand)

4.61" x 7.11" x 0.7"' / 117.22 mm x 180.58 mm x 17.7 mm

6.69" x 9.13" x 3.74" / 170 mm x 232 mm x 95 mm

0°C to 40°C / 32°F to 104°F

-20°C to 60°C / -4°F to 140°F

Operating: 20% to 80%; Storage: 10% to 95%

4 year warranty coverage - Elo P/N: E898247
5 year warranty coverage - Elo P/N: E898449
3 year warranty coverage + AUR - Elo P/N: E898648
4 year warranty coverage + AUR - Elo P/N: E894921
5 year warranty coverage + AUR - Elo P/N: E895125

Regulatory approvals and declarations

Canada cUL, IC
China CCC
Europe CE
United Kingdom UKCA
United States FCC, UL
Japan VCCI
International CB
Australia RCM
Mexico NOM
Korea, KCC
Taiwan BSMI

Touchmonitor
Micro USB Y-cable
Quick Install Guide

Elo Backpack® - Elo P/N: E611864
Elo Backpack® 3.0 - Elo P/N: E901355
Short Tabletop Stand for 10'' I-Series - Elo P/N: E160104
Shelf Mount Bracket (75mm or 100mm VESA) - Elo P/N: E043382
2.5m Cable Kit - Elo P/N: E796577
---
Accessories
(5)
Upgrades, add-ons, and more.
Resources
(22)
Collateral

Drawings and Certificates

---

User Guides

---

Additional Support Resources

---
Get Started with Elo Today.