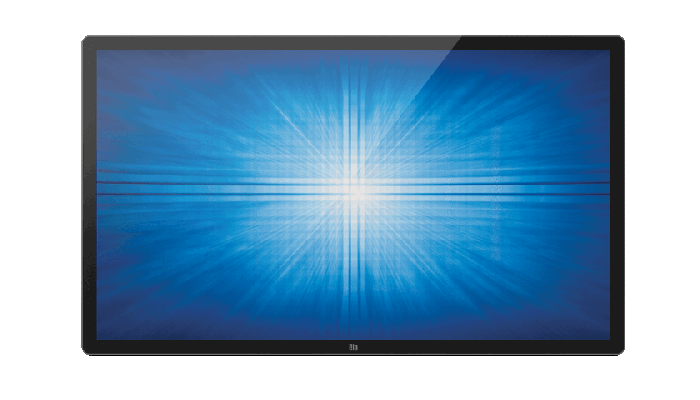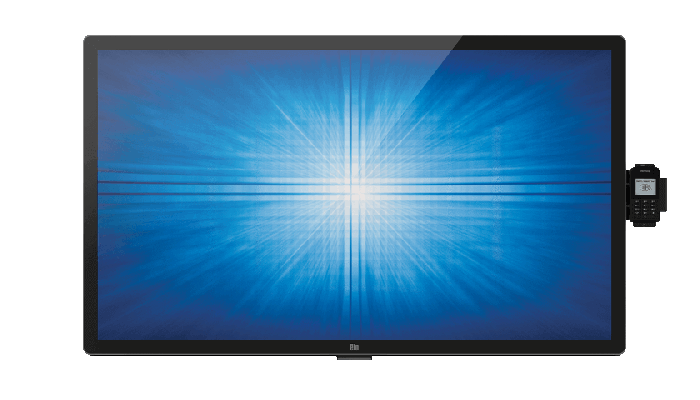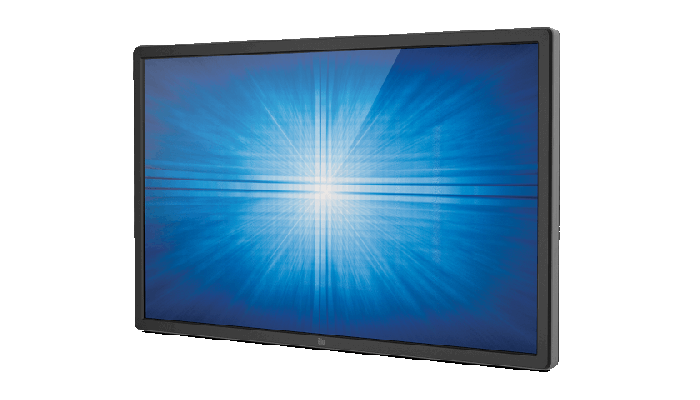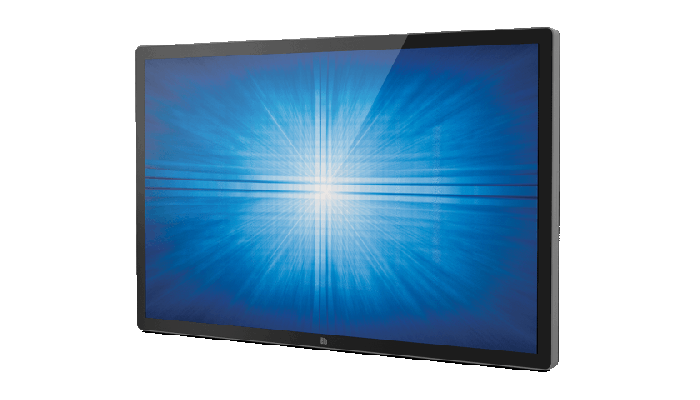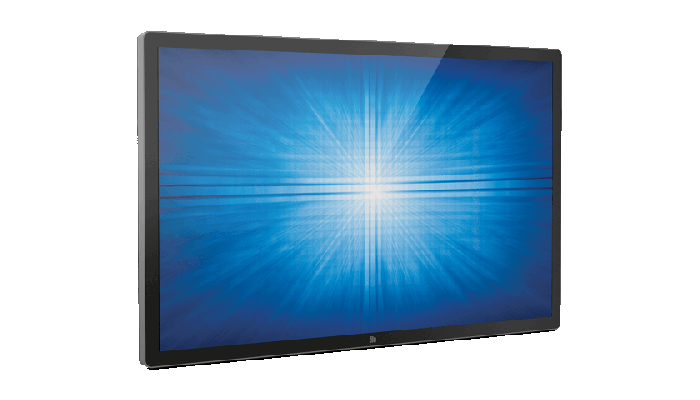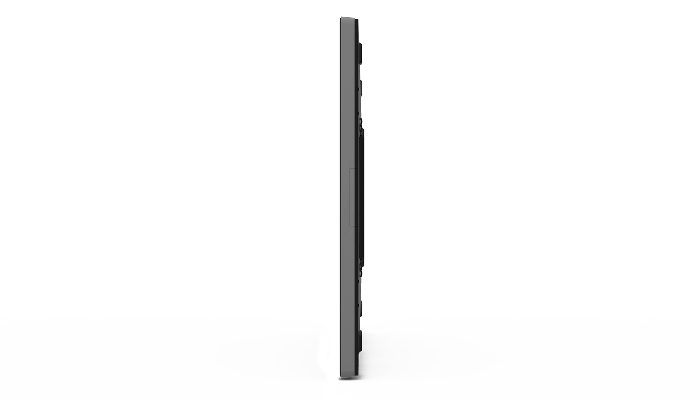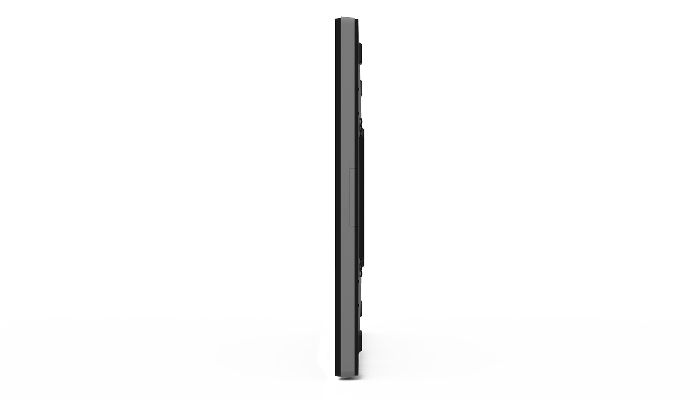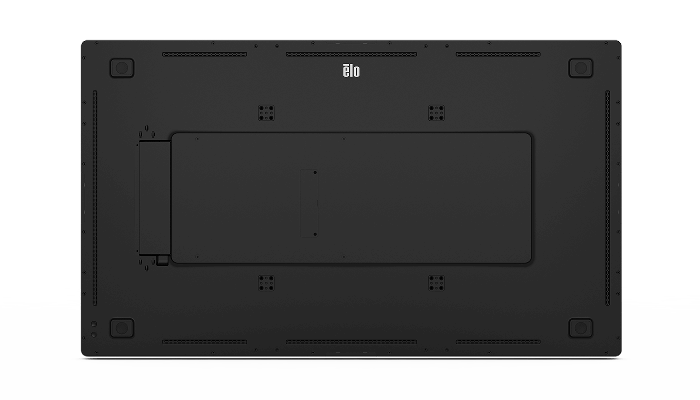 5502L 55" Interactive Digital Signage (Replaced by 5503L)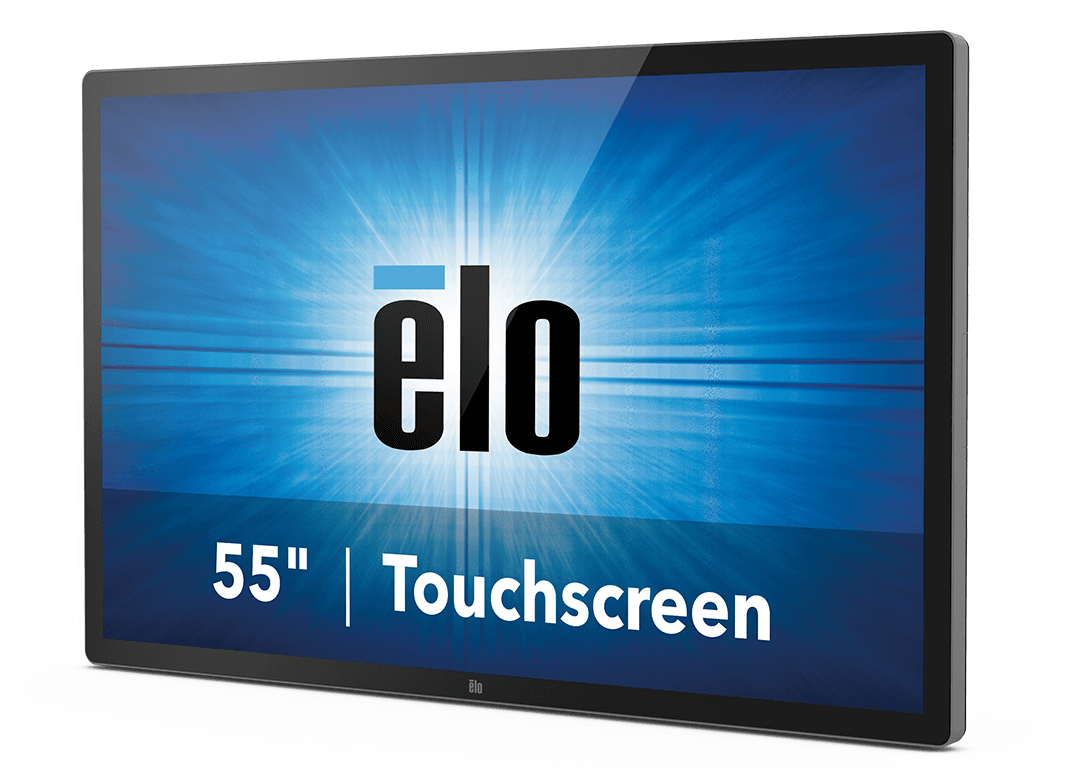 This product has been replaced by the 5503L.
Elo 5502L Touchscreen Signage Display
Add interactivity to any environment with Elo's 5502L 55-inch touchscreen display. With a brilliant and responsive interactive canvas for leveraging a variety of content, the professional-grade large format display is well-suited for creating engaging experiences. From endless aisle and brand experiences to way-finding and collaboration, Elo's touchscreen displays from 10 to 70 inches offer everything you need in a sleek, slim design and are built to withstand the rigors of continuous public use.
Bring Interactive Experiences into Public Places
Wayfinding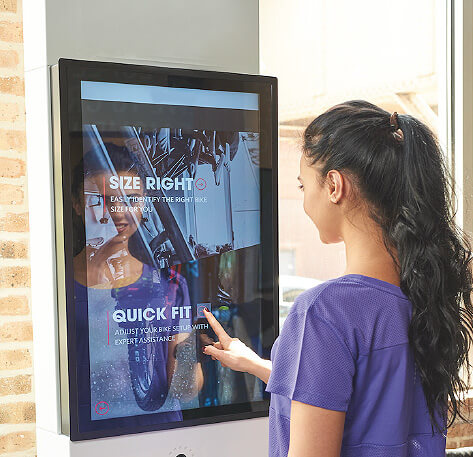 Product Configurator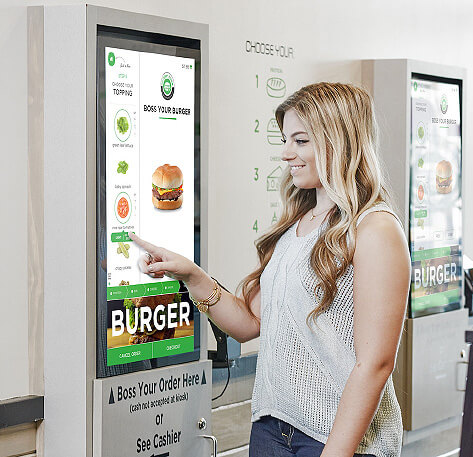 Self-Service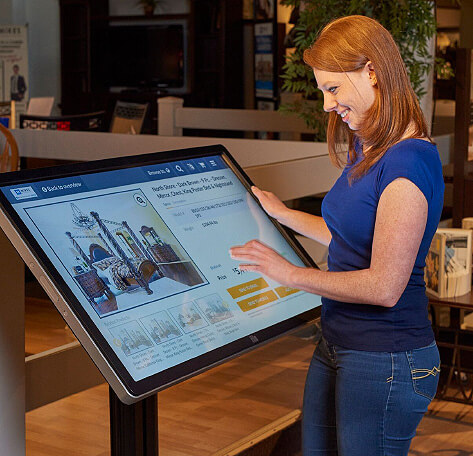 Endless Aisle
Collaboration for all Environments
Not only do high traffic environments demand interaction, but meeting rooms and classrooms do as well.
They introduce heightened collaboration capabilities between the instructor and their audience, helping to drive concepts and
innovation beyond what a whiteboard and dry erase marker once did.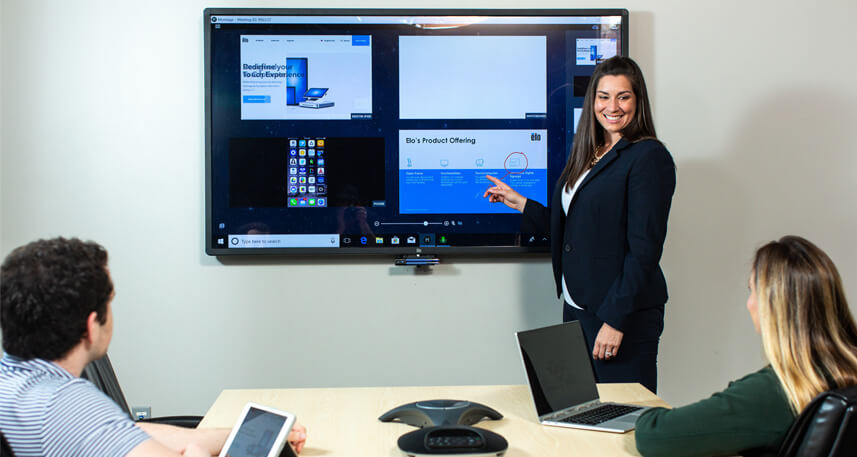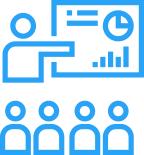 Collaborative
Learning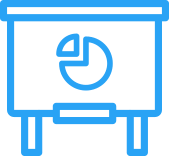 White Boarding &
Markup
Collaborative
Conferencing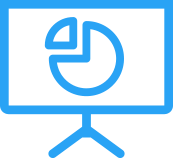 Presentations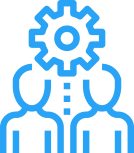 Meeting
Management
Unified Style Across Sizes
The 5502L is available with two touch technology options. Both enable 10+ touch for multi-user interaction with fast and sensitive responses.
TouchPro® PCAP offers clear anti-friction edge-to-edge glass with touch thru performance. Infrared (IR) offers ease of scalability to larger sizes with an extra
level of protection against scratches.
Accessorize with Elo Edge Connect™
Expand your touchscreens potential by adding an EMV reader, NFC/RFID, MSR, barcode reader or one of our many other accessories. With the Elo Edge Connect system, accessories attach flush to the edge of the touchscreen/display for a clean design and extended functionality. On the 5502L touchscreen monitor, you can easily add any combination of up to four Edge Connect products – configuration is up to you and easily changed at any time.
Transform your Touchscreen Display into a Touchscreen Computer
With high-powered CPU options for Android or Windows OS, Elo enables a seamless end-to-end solution from one manufacturer for interactive experiences.
Purpose-built for compatibility and long life-cycles, the compute modules and touchscreen systems create one of the most robust and reliable
solutions on any platform.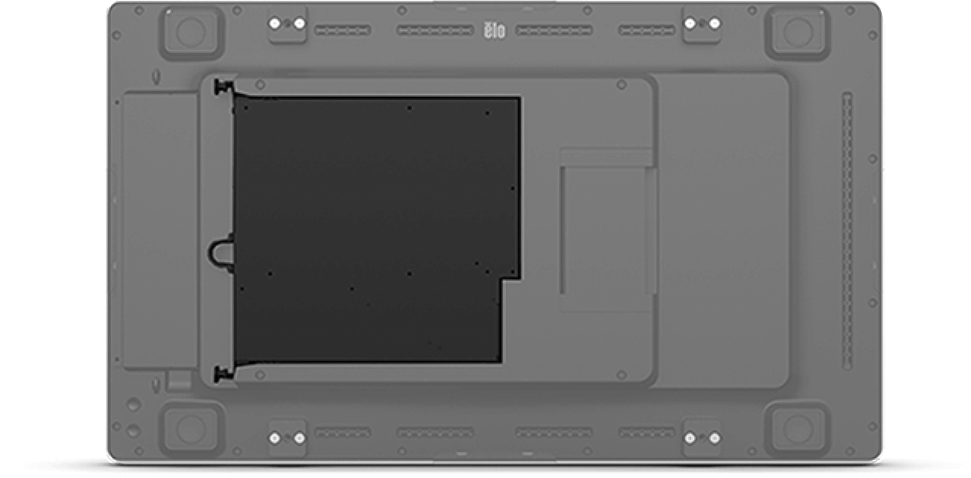 Add Windows Computing Power with Ease
The Elo Computer Modules (ECMs) for Windows slide into the back of the touchscreen display to deliver one of the industry's thinnest commercial grade all-in-one large format touchcomputers. AC power, video and USB signals pass between the computer module and the display making field installation and maintenance easy with no external cables required.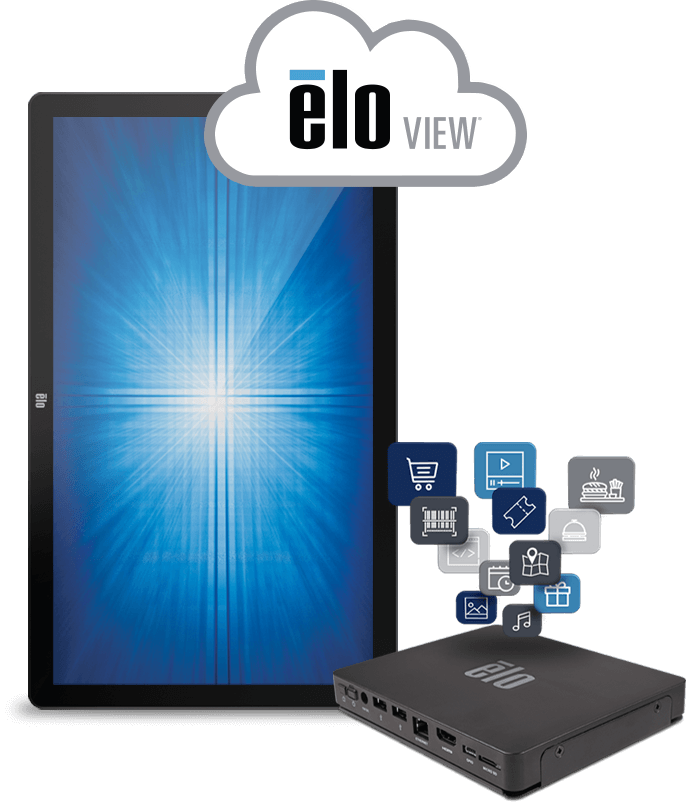 Start Managing Your Devices Smarter with the Elo Backpack® & EloView®
The Elo Backpack is an Android powered compute engine capable of transforming Elo touchscreens into an affordable, scalable, single-architecture media platform. With its simplified content-delivery and remote-management capabilities via the EloView® portal, the Backpack provides a low-power, solid-state, fan-less computing solution with the capability to simplify deployments and remotely manage kiosks out-of-the-box.

EloCare Advance Unit Replacement - We Have Your Back.
As part of the three-year standard warranty for large format IDS, Elo offers complimentary advance unit replacement to cover you in the unfortunate event your device requires service. If the issue can't be resolved over the phone, Elo will provide a replacement unit and a pre-paid shipping label for the defective unit to be returned at no cost. Elo also offers rapid response times and On-Site Exchange for large format interactive displays at additional cost.
Learn More
Commercial-Grade Products Designed for Commercial-Grade Environments Compliant with ADA and IBC requirements for protrusion when mounted to a wall with an Elo low-profile mount. Ready for use 24/7 Advance Unit Replacement included with standard warranty. Learn More
Backed by our 3-year standard warranty with an optional extension to 4 or 5-years.
Purpose built for touch at the factory level External control for remote management (RS232 via virtual comm-port)
Specifications
Technical

---

Infrared (clear) - E218847
Infrared (clear) with Qwizdom Octopus/Ximbus Software - E399726
TouchPro PCAP (clear with anti-friction) - E218562

Touch Technology & Capacity

PCAP (TouchPro® Projected Capacitive) - 12 Touch
Infrared - 20 Touch

54.6'' diagonal, Active matrix TFT LCD (LED)

47.62" x 26.78" / 1209.60 mm x 680.40 mm

Other Supported Resolutions

640x480 60Hz
720x480 60Hz
720x576 50Hz
800x600 56, 60Hz
1024x768 60Hz
1280x720 50, 60Hz
1280x960 60Hz
1280x1024 60Hz
1366x768 60Hz, 60Hz RB
1440x900 60Hz, 60Hz RB
1680x1050 60Hz, 60Hz RB
1920x1080 50, 60Hz

Horizontal: ±89° or 178° total / Vertical: ±89° or 178° total

LCD Panel: 450 nits
IR: 405
TouchPro PCAP: 387 nits

Response Time-total (typical)

Available through the Touch OSD menu.

Video Settings: Video Port Discovery, Video Source Select, Black Level, Brightness, Contrast, Sharpness, Auto Adjustment

Color Settings: Color Temperature, User Preset (for color), Dynamic Color Modes

Audio Settings: Audio Source selection, Mute, Volume adjustments

General Settings: Recall defaults, MDC protocol (for serial commands), Tabletop Mode (for tabletop thermal profile)

OSD Settings: OSD Timer and language
Information: Monitor, System Temperature, Help & Support

Power Settings: Power Behavior

RTC Settings: The clock/time and the monitor ON/OFF schedule can be changed within this menu. Daylight Saving time is adjusted for automatically and will change the current time by one hour to accommodate daylight savings time.

VGA Settings: Allows user to change the H. position, V. position, Clock and Phase. If VGA is the selected source, the Auto-Adjust feature is available in the Video Settings tab.

See user manual for full details.

Input: AC power input, USB type B (for Touch), VGA, 2x HDMI, GPIO, DisplayPort, Audio Line in
Output: Audio Headphones out, RJ45 (for optional OSD remote)

Input Video Signal Connector

Analog VGA Female DE-15 connector
2x HDCP-capable HDMI Type A connector
DisplayPort 1.1a connector

Horizontal: 31.5 - 73 KHz
Vertical: 47 - 63 Hz

1Vrms max stereo signal (standard PC line out)

Headphone Output Connector

AC internal - Replacement power cables are available with the purchase of a replacement cable kit - Elo P/N: E060080

Power Consumption (Typical)

Monitor Only
(Typical at 100V at 60Hz):
ON: 87.77W
SLEEP: 0.36W
OFF: 0.19W

(Typical at 240V at 50Hz):
ON: 83.64W
SLEEP: 0.74W
OFF: 0.44W

Monitor + ECMG3
(Typical at 100V at 60Hz):
ON: 103.6W
SLEEP: 11.12W
OFF: 11.05 W

(Typical at 240V at 50Hz):
ON: 95.8W
SLEEP: 10.69W
OFF: 10.64W

TouchPro: 50.50" x 29.66" x 2.01" / 1282.68 mm x 753.48 mm x 51.0 mm
IR: 50.50" x 29.66" x 2.38" / 1282.68 mm x 753.48 mm x 60.37mm

55.9" x 9.25" x 34.6" / 1420 mm x 235 mm x 880 mm

TouchPro:
With ECM: 78.51 lbs / 35.61 kg
Without ECM: 71.85 lbs / 32.59 kg

IR:
With ECM: 81.64 lbs / 37.03 kg
Without ECM: 74.98 lbs / 34.01 kg

TouchPro:
Without ECM: 91.67 lbs / 41.58 kg

IR:
Without ECM: 94.07 lbs / 42.67 kg

Portrait/Landscape Mode: 0°C to 40°C / 32°F to 104°F
Table top Mode and with Intel OPS modules: 0° C to 35° C OR 32°F to 95°F

-20°C to 60°C / -4°F to 140°F

Operating: 20% to 80%
Storage: 10% to 90%

400mm x 400mm VESA 4-hole mounting interface on rear of unit

See dimensional drawings for details

50,000 hours demonstrated

4 year warranty coverage + AUR - Elo P/N: E740135
5 year warranty coverage + AUR - Elo P/N: E740330
3 year warranty coverage + OSE - Elo P/N: E740527
4 year warranty coverage + OSE - Elo P/N: E740728
5 year warranty coverage + OSE - Elo P/N: E740918

Regulatory approvals and declarations

UL, FCC (US) - Class A
cUL, IC (Canada)
CB (International safety)
CE (Europe) - Class A
CCC (China)
EAC (Russia)
VCCI (Japan)
Energy Star 7.0
UL 60950 ball-drop compliant
IK07 impact compliant
EU Energy Efficiency A rating

QIG
HDMI cable
VGA-DB9 Serial Y-Cable
USB cable (Type A plug to Type B plug)
Power Cable IEC 60320-C5 (NA plug)
Power Cable IEC 60320-C5 (EU/KR plug)
Power Cable IEC 60320-C5 (UK plug)
3.5mm Audio Cable

Temperature Sensor Pro – Elo P/N: E534879
Barcode Reader – Elo P/N: E093433
2D Barcode Scanner – Elo P/N: E926356
Elo Backpack® - Elo P/N: E611864
Elo Backpack® 3.0 - Elo P/N: E901355
Magnetic Stripe Reader – Elo P/N: E001002
NFC/RFID Reader – Elo P/N: E001004
Wallmount for IDS 02 Series – Elo P/N: E275050
EMV Cradle for Ingenico ICMP - Elo P/N: E200788
EMV Cradle for Verifone E355 - Elo P/N: E201363
EMV Cradle for MagTek eDynamo - Elo P/N: E375343
EMV Cradle for Ingenico RP457c (with Audio Jack, BT and USB) - Elo P/N: E586981
EMV Cradle for Ingenico RP457c (with BT and USB) - Elo P/N: E710930
Fingerprint Scanner – Elo P/N: E134286
ECM Power Connector Module for IDS 02 Series – Elo P/N: E275433
IDS Side-mount Brackets - Elo P/N: E329508
Wired OSD Remote - Elo P/N: E483757
ECMG2C Android Computer Module Kit for IDS 02 Series - Elo P/N: E336899
OPS adaptor kit for IDS 02 Series - Elo P/N: E337104
Note: All ELO-KIT-ECMG2C include the E275433 ECM Power Connector Module for IDS02
i3-6100 ECMG3 with No OS - Elo P/N: E400587
i3-6100 ECMG3 with Windows 10 - Elo P/N: E400965
i5-6500 ECMG3 with No OS - Elo P/N: E401168
i5-6500 ECMG3 with Windows 10 - Elo P/N: E401558
i5-6500 ECMG3 with Windows 10 (256 GB SSD & 8GB RAM) - Elo P/N: E458919
i5-6500 ECMG3 with Windows 10 and DisplayNote Montage Software - Elo P/N: E343989
i7-6700 ECMG3 with No OS - Elo P/N: E401764
i7-6700 ECMG3 with Windows 10 - Elo P/N: E402161
i7-6700 ECMG3 with Windows 10 (256 GB SSD) - Elo P/N: E459109
Note: All ECMG3 Kits include the E275433 ECM Power Connector Module for IDS02
PCAP Stylus Pen - Elo P/N: E066148
Collaboration Tray - Elo P/N: E477238
---
Accessories
(10)
Upgrades, add-ons, and more.
Configurations
(3)
Refine your search: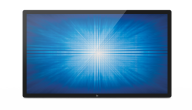 E218562
TouchPro® - PCAP
Multi Touch (12)
Clear
LCD Panel: 450 nits
PCAP: 387 nits
1100:1
E218847
Infrared
Multi Touch (20)
Clear
LCD Panel: 450 nits
IR: 405
1100:1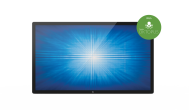 E399726 (With Qwizdom)
Infrared
Multi Touch (20)
Clear
LCD Panel: 450 nits
IR: 405
1100:1
No Configurations found.
Resources
(22)
Drawings and Certificates

---

Collateral

User Guides

---

Additional Support Resources

---

On-Site Exchange Information
Get Started with Elo Today.